Agenda
Evolve into a Winning Marketing Organisation
The last two years have brought about a paradigm shift in consumer behaviour. From what they consume, to how they consume it, from the brand they affiliate with to the cause they support, the modern consumer is more conscious and evolved. This shift in fundamental behaviour has completely flipped the role of marketing. The position of marketing in the success of organisations has never been more profound and complex. 
Brands that were able to rethink the role of marketing from a siloed function to a critical pillar accountable for the growth of the company stayed ahead of the curve. The ones that failed to do so were left behind. 
Organisations that not only navigated the tough times but also emerged as winners are clearly following a different set of fundamentals. It's now more important than ever to identify these winning values and construct a robust framework. 
Segment 1 -  Engagement. Experience. Exchange: The 3E Formula for Attracting, Acquiring and Retaining Customer
In this segment, we present a structural framework of changing the environment of creating customer value. Attendees will be equipped with strategies to move away from retooling and reshaping existing structures to rethink the environment completely. 
Describing the 3 Es in detail:
Exchange: Matching offerings to individual customer needs and context in ways that facilitate transactions
Experience: Increasing convenience and enjoyment across the customer journey
Engagement: Deepening and expanding the meaning, community, and purpose around an offering
Segment 2 -  Creating Internal Value to Drive Growth
Organisational framework - creating company value
Strategic value: marketing to be a driver of new creating new capabilities and revenue streams 
Operating value: align disparate teams around a shared growth agenda that focuses on customers' needs 
Knowledge value: Build and leverage information loops to increase causal understanding and expand resource optimization
Segment 3 - WMO Toolkits
Is your organisation a WMO? Assess the fit against the 72 capabilities - click here
Know more about Winning Marketing Organisations - Click here
Follow us on social media to get updates on MMA Impact India - LinkedIn | Facebook | Instagram | Twitter
 
Friday, May 20, 2022
10:30 AM – 10:40 AM
Welcome Keynote - WMO Theme Explained
Setting the tone to the day and demystifying the need to focus on building winning marketing organisations as a part of this year's theme - a structural framework of changing the environment of creating customer value and firm value which together deliver growth and performance. Learn ways of retooling and reshaping existing structures to rethink the environment completely.
10:40 AM – 11:00 AM
Enabling commerce for the next wave of digital Indians
As digital access in India goes deeper into the country geographically and to different levels of digital literacy, building for these new users poses new challenges. This session will showcase some of the work by Flipkart to enable the next wave of digital users to access, use and trust e-commerce.
11:00 AM – 11:30 AM
A key barrier to the adoption of digital media strategies is the lack of universally accepted standards around metrics to measure digital media. In this session, the industry experts will talk about the commonly agreed-upon solutions and metrics to measure digital media, that will make the adoption of digital media easier for Indian advertisers.  
 
Key Takeaways:
Output vs Input metrics - what matters for business?
The methods to measure output metrics
What tools are available in India for brand and sales measurement?
11:30 AM – 12:00 PM
Unveiling: Brand Safety Reimagined - A toolkit for the modern marketer
Today's landscape has seen brands aggressively venturing into the digital space to market and sell their products via social and other platforms. Such a scenario makes it imperative for one to be extremely discerning, considering that appropriate positioning and reputation of the brand play a critical role today keeping in mind the awareness levels of the end consumer.
To highlight the increasing significance of Brand Safety, this report captures the essence of the topic basis domain expert views. The report carries some very rich and objective insights on collectively promoting the significance of Brand Safety.
In this session, besides emphasizing the key findings/pointers of this report, experts will also talk about the importance of Brand Safety, the guardrails they follow and recommend to the industry at large, and the evolving digital environment which makes it even more imperative for one to harness the appropriate brand safety measures.
12:00 PM – 12:30 PM
Keynote: Winning in the Evolving Marketing Landscape
The Evolving Marketplace will identify the four forces driving change which are multi-polar: globalization, demographic shifts, technology, and the long-term impact on mindsets due to Covid19. It will then identify the five ways marketing is changing using a framework called the 'ABCDE of Marketing' (audience, brand, content, data, and enterprise) to show how marketing has evolved. 
Key takeaways: 
The need to spend an hour a day learning
The need to build a case for the opposite of what we think 
To prepare for the future by actually doing and not just writing decks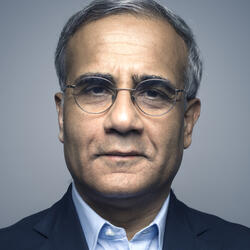 Author of Restoring the Soul of Business: Staying Human in the Age of Data
Advisor | Speaker | Educator
12:30 PM – 12:50 PM
Fireside Chat: The Metaverse is the Medium
The Metaverse - a topic that has sparked the imagination of consumers and brands as the next big thing, with a promise to reshape the internet. It's also often misunderstood which is true for most emerging technologies. Join us at IMPACT 2022 as we discuss and debate what the Metaverse means for Indian Consumers and Advertisers.
MMA India Board Member; Country Head - Nielsen Media , South Asia

12:50 PM – 1:10 PM
Keynote: How the role of marketing is changing and what it takes to win?
In an era of unprecedented change, swirling headwinds and ever-increasing business pressure, Lou Paskalis, MMA President and COO, will share his thoughts on what it takes to lead a winning marketing organization. At a time when marketing has never been more important to the success of the business and indeed the global economy, marketing is being asked to take on additional responsibilities in areas ranging from customer experience, attribution, data and analytics to brand safety and suitability. Simultaneously, we've seen evidence of other organizations seemingly de-emphasizing the marketing role or conflating it with other roles in the C-Suite.
Lou will talk about how to make sense of these seemingly conflicting trends, the implication for the future of marketing and how marketers will need to "lean in" to reassert their role in delivering on the CEO's growth agenda. Topics will include:
Organizational alignment
Leadership
Boundary-spanning
Growth frameworks
Building a winning narrative
Customer experience design and delivery
1:10 PM – 1:40 PM
Unveiling : Modern Marketers' Guide to leveraging Data & MarTech
The Modern Marketers Guide to Leveraging Data & MarTech is an insight-packed, action-oriented playbook. This second edition focuses on why Data and MarTech need to be looked at from the same lens to ensure that together they create great business impact.

Key takeaways from the session:
• Industry Survey 2022 outcomes - Understanding the Data and MarTech maturity of organisations
• How do brands build connected customer experiences?
• Personalisation in a cookieless world, leveraging micro-moments, hyper-personalization
• Technology and digital experiences in which the marketing world is investing in
• What is the right MarTech stack for one's brand/organisation?
• Real-world success stories of impactful MarTech and Data led solutions in addressing today's business problems
1:40 PM – 1:55 PM
Marketing straddles across multiple functions in an organization. The primary role of Marketing is to create Value- Customer/Consumer Value and thereby Firm Value. The world is constantly evolving, more so now and so are consumers. Organizations and marketers need to evolve to keep pace. Nurturing Leadership is a key aspect of evolving Marketers. A more holistic and consumer-centric approach is key to success.