MMR 2022: Building Winning Marketing Organisations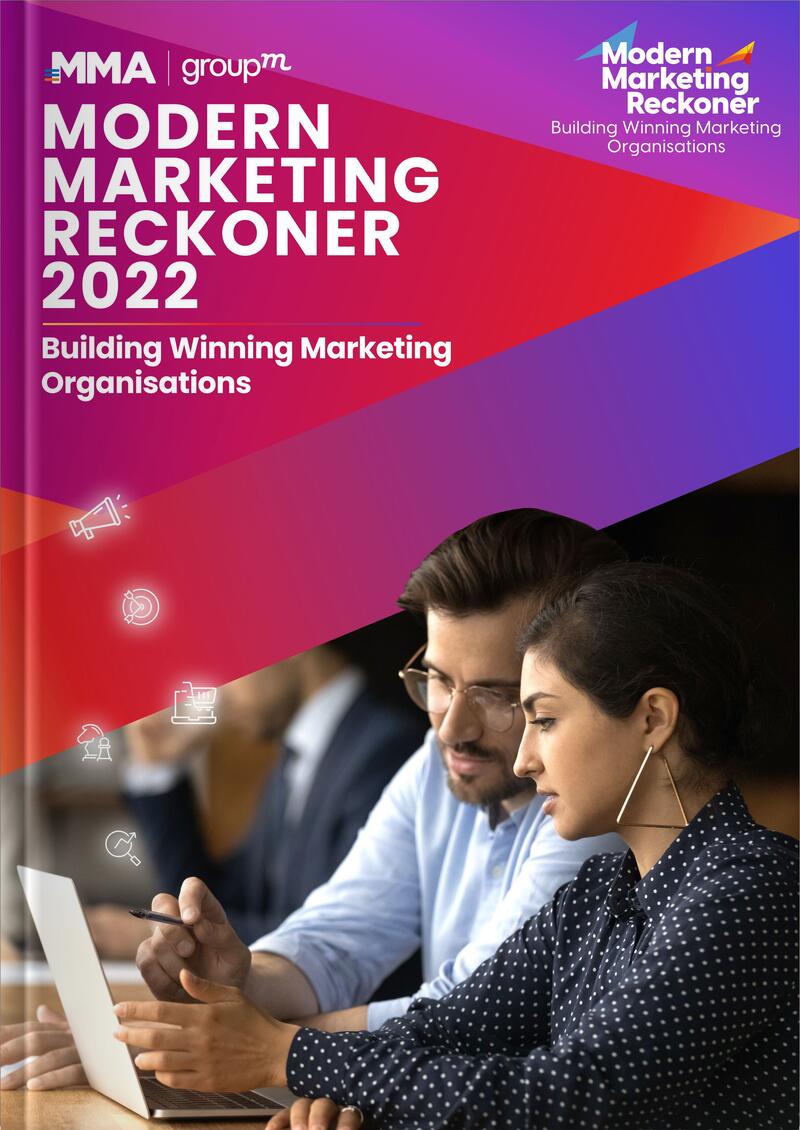 MMA India, a part of MMA Global, which is the world's leading not-for-profit marketing trade body, along with GroupM unveiled its Annual Report - Modern Marketing Reckoner 2022: Building Winning Marketing Organisations. The report is a ready reckoner to enable marketers to build winning marketing organisations. It is inspired by the MMA Global report which finds that the differential in sales growth performance for firms with low and high marketing capability fit is 3X or three times. It further states that a 1% improvement in marketing capability fit for firms is associated with a 2.5% increase in sales growth recommending a structured methodology and framework that enable organisations to match capability fit to drive growth and performance.
The MMA India report showcases ways to improve capability fit and brings forth an ecosystem POV to share key insights and expertise on building winning marketing organisations. A must download toolkit to build winning marketing organisations.
The Modern Marketing Reckoner 2022 offers a playbook for the modern marketer across various pillars spanning brand, consumer, data, technology, and organisational culture. It is a combination of extremely insightful viewpoints of more than 50 marketing leaders from diverse modern marketing organisations. It showcases the modern marketing capability map which is a combination of customer value and organisation value and is a comprehensive guide that focuses on discovering growth, building platforms, leveraging assets, enhancing data creation, and management, increasing personalisation, augmenting value, and building purpose and communities among many others.
Key Highlights from the report:
Over 50 expert POVs from experts across multiple domains as well as from GroupM thought leaders
The report covers multiple areas spanning content, communication, technology, data, etc, and is a carefully researched report backed with data and expert POVs
69% of consumers prefer using chat interfaces as they deliver real-time answers and personalization. 82% of consumers claim that instant responses to their questions play a significant role in the buying process when contacting brands
There will be more than 40 million Connected TVs in Indian households by 2025. SVOD offerings such as Netflix, Disney+ Hotstar, and Amazon are hugely popular, together with YouTube, and Facebook accounts for 85% of the $1.4 bn in revenue made by online video in 2020          
India is witnessing a positive response with creators' reach being 2X over brand reach, and creator conversion rate nearly 3X that of brands
312 million Indian consumers are expected to make a purchase online in 2022 (source: eMarketer, June 2021)
4G dominated Indian subscriptions, accounting for 68% of all subscriptions which is likely to change significantly by 2027, where 5G is estimated to reach 39% of subscriptions
The number of active internet users is projected to reach 900 million+ in 2025
Download the report to know more.
MMA Members, log in to download now.
Not an MMA Member? Please fill out the form below to find how you can get access to this document and to learn more about other useful resources.