Subscribe, listen, read & share today!
Need to reduce the white noise but keep up to date on the latest in Marketing transformation? We have all the options that will suit your needs and keep you focused on what you need to know.
Daily
MMA Smartbrief:
North America Edition
Provides the most important and up to the minute mobile marketing news provided by leading publishing and news sources.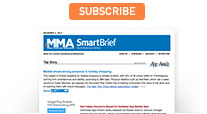 Interested in advertising in MMA SmartBrief? Contact Dena Malouf at [email protected]
Weekly
Marketing Webinar Series
With subject matter ranging from Location, Couponing and Rich Media to Key Takeaway summaries from our annual events, we cover all the priority need to know topics and work with the industry leaders to provide that information in clear and concise sessions developed to inform and inspire. Sign up for the monthly email digest.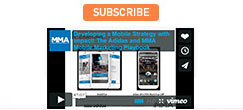 Privacy Policy: http://www.mmaglobal.com/privacy-policy