Agenda
Wednesday, November 6, 2019
Thursday, November 7, 2019
8:00am – 9:00am
Registration & Networking Breakfast
---
9:15am – 9:45am
Marketing in the Third Connected Age
If the first age of connection was built around search and e-commerce and the second around mobile and social, the next age will be built around AI, IOT, Voice Interfaces and 5G. How can marketer and organizations prepare to thrive in this Third Connected Age. Rishad Tobbacowala, Chief Growth Officer at Publicis Groupe will share a forecast for the future, outline key organizational and personal re-inventions that will be necessary and much more.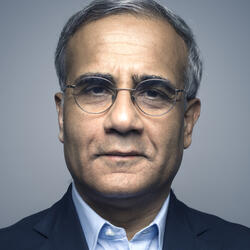 Author of Restoring the Soul of Business: Staying Human in the Age of Data
Advisor | Speaker | Educator
9:45am – 10:00am
What Neuroscience and Movies Have Taught Me About Advertising in Mobile
Does our brain processes information differently in mobile? Is more time better for mobile ads? What is the one thing that failing ads have in common? The answers to these questions may surprise you. In this session Vas Bakopoulos, SVP, Research and Insights at the MMA, will present new findings from a neuroscience and eye-tracking study and will discuss its implications in terms of creative and media planning.
10:00am – 10:30am
Why You Must Earn Attention No Matter the Budget Size
We live in an environment in which attention is something that must be earned and in digital, 66% of advertising effectiveness comes from the content. Marketers can no longer purchase eyeballs in the way they used to and instead need a holistic media and content approach backed by data. VaynerMedia's Chief Media Officer Jeff Nicholson, and Teads' Global VP of Teads Studio Bertrand (Coca) Cocallemen will discuss how to merge data, media, and creative strategies in order to capture attention and build relationships with consumers in an authentic way. 
10:30am – 11:05am
Innovation Lab (Exhibits)
---
11:10am – 11:40am
Innovation in Location: "What's New" and "What's Next" in Location to Grow your Business
Location data is being used by leading brands to discover opportunities, reach new audiences and markets, and drive sales. From discovering the high impact (and easy) way brands are using location data for optimization to why more companies are taking data in-house, join Duncan McCall, CEO of PlaceIQ as he shares some of the emerging location use cases trending today, along with actionable insights to implement immediately.
11:45am – 12:15pm
Named to Fast Company's "Most Innovative Companies" list, Group Nine is a mobile-first visual storyteller reaching and engaging a massive audience of largely millennials, through content that inspires, unites, and sparks action — online and IRL. In this session, Group Nine President Christa Carone presents fresh data about what young adults care about and what motivates them, with eye-opening insights about digital behavior and emerging content and consumption trends. She will also share her astute perspective on where the future of video is headed, and where massive opportunity awaits.​
1:20pm – 1:50pm
A MMA MOSTT Research Study
A MMA MOSTT Research Study: Competing on M.A.R.S. – A Look Into the Emerging Marketing Capabilities for Today's Market​
This session shares key findings from a year-long study of changes in marketing capabilities by firms seeking to compete more effectively in today's increasingly technology-led environment. Join Shubu Mitra as he shares a new model for the organization of marketing work centered on the development of value stacks, the creation of organizational links​, and the design of learning loops. The presentation will provide examples of how the development of these emerging practices vary across firms, and insights to select the right model for your organization.​ 
1:50pm – 2:20pm
Harnessing the Power of Innovation In-house
Many brands today build innovation labs as a way to generate new ideas, reimagine the customer experience, and create a culture of innovation to keep pace with today's technology. Hallmark Labs has accelerated its efforts to adapt to the changing competitive landscape by moving from a commerce-centric model to a consumer-centric model. Discover how this pivot necessitated a behavioral change across the entire organization and how it engaged with consumers.
2:20pm – 2:25pm
Passport to Prizes Winners Announced
---
2:25pm – 2:55pm
Navigating the World of Esports
eSports is experiencing explosive growth. The fledgling industry, which saw 380M viewers and $690M in revenue in 2018, will nearly triple its revenue to $1.8B with 600M active viewers by 2021. While esports attract a hyper-social, millennial fanbase, not all esports fans are alike and brands need to create separate communications strategies based on game and audience. Join Activision Blizzard Esports, CMO Daniel Cherry III as he shares how brands can breathe new life into their brand story through the on and offline world of esports. ​