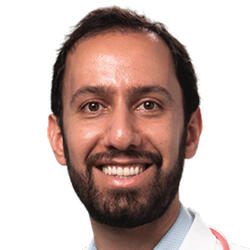 A Board Certified doctor of internal medicine, Dr. Justin Zaghi, serves as Medical Director at Heal where he oversees clinical performance and strategy, and sees Heal patients in the Los Angeles area.  Earning his MD from Harvard Medical School, Dr. Zaghi was named one Boston Magazine's "Top Future Doctors"  in 2009 and received the Dean's Community Service Honor. Dr. Zaghi also earned his MBA from Harvard Business School with first-year honors, where he was a member of the Healthcare Club and Social Entrepreneurship Club and the recipient of a grant from the Bill & Melinda Gates Foundation. He completed his Internship/Residency at the University of California, Los Angeles where he was Co-Founder/Director of Health Systems and Management Pathway.  Dr. Zaghi received his Bachelor of Science in Neuroscience from the University of California, Los Angeles where he graduated summa cum laude and was inducted into the Phi Beta Kappa Honor Society.
Prior to joining Heal, Dr. Zaghi worked at the West Los Angeles VA Hospital where he provided comprehensive care to hospitalized veterans and training house-staff and medical students. Dr. Zaghi also served as an associate consultant for the prestigious global management consulting firm, McKinsey and Company, where he advised large-scale hospital chains on payer strategy, revenue cycle management, and change management for physician groups.  Dr. Zaghi has authored numerous research articles on various topics, including stethoscope hygiene and Alzheimer's Disease and is also co-inventor of a patent-pending device that rapidly disinfects stethoscopes.
Joining Heal full-time in 2016, Dr. Zaghi focuses on preventive care - offering patients tools to promote wellness with a focus on mindfulness, meditation, and yoga. When he's not working, Dr. Zaghi enjoys playing the guitar, practicing yoga, and salsa dancing.