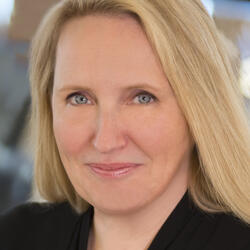 Karin Timpone is Global Marketing Officer at Marriott International. In this role, Karin leads the integrated global marketing and consumer relationship management strategy for the company. This includes evolving the strategy to strengthen the relevance of Marriott's portfolio of brands to the Next Generation Traveler. Under Karin's leadership, the global marketing team has integrated new brands into the portfolio, grown its loyalty member base, innovated new digital marketing platforms, pioneered an industry-first content studio and global social media command centers, as well as introduced new global marketing partnerships in sports, entertainment, travel and technology.
Karin joined Marriott from the Walt Disney Company, where she was the Senior Vice President, Product Strategy + Marketing for Disney ABC Digital Media. While there, she set up the first-ever digital media product strategy and marketing team for the company and led consumer strategy for brands such ABC.com, ABCNews.com, ABCFamily.com, and Disney Channel and Oscar.com and the introduction of award-winning mobile products. Prior to the Walt Disney Company, Karin was head of Marketing for Yahoo! Media Group as well as Consumer/Customer Innovation. She also served as senior marketing executive at the Seagram Company where she helped lead strategy for a broad portfolio of brands, including Absolut Vodka. She has extensive experience working in product marketing and new product development for various Fortune 500 companies in both the U.S. and internationally. 
Karin is a graduate of Bryn Mawr College where she obtained her B.A. in Political Science. She received a Master's degree in Media Ecology at New York University and executive education at UCLA Anderson. She has dual citizenship in both the U.S. and Ireland.