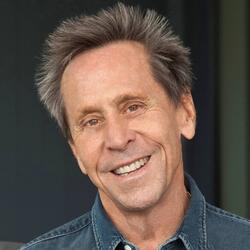 Brian Grazer
Legendary Hollywood Producer & Bestselling Author
Academy Award, Golden Globe, Emmy, and Grammy award-winning producer and New York Times bestselling author Brian Grazer, has been making movies and television programs for over 30 years. His films and television shows have been nominated for 43 Oscars® and 195 Emmys and he won the Best Picture Oscar for A Beautiful Mind.
In addition to A Beautiful Mind, Grazer produced the films Pavarotti, American Gangster, 8 Mile, Liar Liar, Parenthood and Splash and the television series Empire, 24, Arrested Development and Friday Night Lights just to name a few. He also produced the documentary The Beatles: Eight Days a Week – The Touring Years, which was a global hit both commercially and critically having won multiple awards including the 2017 Grammy for Best Music Film, two Emmy awards, and the Critics' Choice award for Best Documentary.
Brian is currently working on several film projects including the NY Times bestseller Hillbilly Elegy, Tick, Tick…Boom! directed by Lin-Manuel Miranda, Curious George based on the beloved children's character, Friday Night Lights, a biopic about Gucci Mane, as well as the documentary Rebuilding Paradise.
On the television side, Grazer is currently producing Wu-Tang: An American Saga with THE RZA and Alex Tse for Hulu, Swagger with Kevin Durant for Apple, Filthy Rich with Tate Taylor for FOX, Why Women Kill with Marc Cherry for CBS All Access, and the third installment of Genius about the legendary "Queen of Soul" Aretha Franklin, with Clive Davis and NatGeo. The Genius anthology series is a critical success for Natgeo with Genius: Einstein garnering ten Emmy nominations in season one. The series' second season, Genius: Picasso, received seven Emmy nominations, as well as multiple Golden Globe, Critics Choice and SAG nominations and awards.
Grazer has been honored by numerous organizations and was named one of Time Magazine's "100 Most Influential People in the World." His book, "A Curious Mind: The Secret to a Bigger Life" was a NY Times bestseller. Grazer's second book "Face to Face: The Art of Human Connection" was released in September 2019.
Grazer met his longtime friend and business partner Ron Howard in the early 1980's and embarked on what is now one of the longest running partnerships in Hollywood. Their collaboration began in 1985 with the hit comedies Night Shift and Splash, and in 1986 the two founded Imagine Entertainment, which they continue to run together as chairmen.