Agenda
Tuesday, April 10, 2018
9:15 AM – 9:45 AM
How Macy's is Reimagining the Retail Experience
Over the last couple of years, Macy's has been ramping up its digital strategy and leveraging technology in its retail locations to provide customers with a world-class omni-channel retail experience. In this keynote, Jill Ramsey, Chief Product and Digital Revenue Officer at Macy's will reveal the role mobile is playing in bridging the physical and digital worlds through seamless customer experiences, how it is driving growth in ecommerce and reimagining how people shop.
9:45 AM – 10:15 AM
Building a Shopping Experience for the Future of Mobile Commerce
Boxed, the popular start-up focused on delivering bulk items to your door, started as a mobile app. While also having a desktop experience, the company is laser-focused on building a best-in class mobile shopping experience including the engaging UI/UX, an innovative predictive AI; and marketing to a consumer who only knows how to shop on mobile. Jackson Jeyanayagam, CMO of Boxed, will talk about the Boxed journey and why their approach is uniquely built with mobile top-of-mind.
10:15 AM – 10:45 AM
Are you suffering from Ad Fraud and don't even know it: Uber's Story
After successfully growing organically for many years, Uber decided to increase rider acquisition through paid advertising. After a PR mishap, Uber shut off ad networks accounting for 10% of their signups but didn't see a decrease in new app installs. This anomaly led them to realize they were victims of attribution fraud. In this session Kevin Frisch, Senior Director of Performance Marketing at Uber, will share insights into what to look for and how to create dashboards and tools that can detect fraud in real time.
10:45 AM – 10:55 AM
SMARTIES Business Impact Index Awards
---
11:30 AM – 12:15 PM
Ads for the On-Demand Era
People have more power than ever regarding when, how, and where they access media. However, the majority of today's advertising gives people zero control. In this session Jackie Vignone, VP, Brand and Agency Partnerships and Paul Fields, Manager, Strategy & Solutions from AdColony will share compelling research and data around user-initiated video, which gives consumers the power to engage with full-screen, video advertising on their terms. You'll also see examples of how user-initiated video is driving key business outcomes while delivering the ad quality metrics brands expect. Learn more about this powerful format that's used by some of the biggest gaming, music and entertainment platforms in the world.
Get Ahead of Your Competitors. Be Where your Customers Are – in apps
Consumers spend on average 3 hours a day in apps, use 40 apps per month and spent $86 billion in app store purchases. Mobile apps are transforming business and brands as we know it as they increasingly become the most direct channel to reach and engage with customers. But with millions of apps vying for installs, how do you cut through the noise to attract and acquire high-quality users at scale? This breakout will dive into how to use data and insights to strengthen your mobile approach, ASO best practices and tips and tricks to create winning mobile marketing strategies that differentiate companies from competitors.
Welcome to the Cognitive Era
Artificial intelligence has become de rigeur within media and advertising industry. To better understand how AI fits within the advertising ecosystem and how to put AI theory into practice, Dave Neway, Head of Product Marketing for IBM Watson Advertising will discuss the multitudinous ways in which AI is impacting our lives with an eye towards how AI is specifically revolutionizing the work of media professionals, increasing the speed and accuracy of decision-making whilst allowing media professionals to spend more time on high value strategic work.
1:25 PM – 1:55 PM
MATT/MTA: How Marketers Should Leverage These Insights

The goal of the Marketing Attribution Think Tank (MATT) was to rethink the world of marketing attribution and provide better measurements, tools, and confidence in connecting marketing to business outcomes. This session will update audiences on the MMA's measurement and attribution initiatives and offer ways marketers should use those findings to gain better insights.
1:55 PM – 2:25 PM
The Evolution Of Immersive And Personalized Media
The number of immersive content users in the US will reach 43 million by 2019, representing 15% of the population. With ad recall 8x greater within immersive content versus traditional experiences, early adopters will have the upper hand and gain an immersed audience interested in their content. In the session, Miles Perkins, VP Marketing & Communications at Jaunt will share how immersive content is evolving and increasing in personalization based on consumers tastes and preferences, and insights into how marketers should incorporate VR in their brand narrative.​
2:30 PM – 3:15 PM
Redefining Premium. Mobilizing Data To Make Premium Inventory Addressable
Audiences expect brands to know who they are, what they want, and when they want to be reached. Deviation from this unspoken contract can result in frustration or even aversion to the brand, especially in today's hyper-connected world. Typically, marketers have divided their brand campaigns – which rely on brand-safe, pre-dominantly publisher direct inventory – from their direct-response efforts, usually executed in a programmatic environment. The benefits of each have, until now, been siloed. Join us as we take you through some of the emerging technology and strategies enabling brands to implement innovative campaigns that also meet modern consumer expectations.
Bridging the Gap: Integrating Traditional Channels into Your Data Strategy
Brands today are increasingly pushing their partners to extend data-driven audience and measurement capabilities into more traditional marketing channels. This session will discuss best practices for leveraging 1st and 3rd party data as part of an omnichannel marketing strategy, and how to apply existing data strategies to previously siloed channels, such as out-of-home. We'll hear some of the expertise of an industry vet who is currently helping a major household brand bring their programmatic strategy in-house.
Measurement Matters: Closing the Loop with Location Data
In today's technology-driven world, location data is increasingly critical for personalized advertising experiences. But leveraging location data in a smart and effective way and measuring the results can be challenging. In this session, you'll learn how to identify ​quality location data, address the opportunities and challenges in employing location data, and how to measure what can be the fuel that powers your marketing strategy.
3:40 PM – 4:10 PM
Brands have spent billions on package design to stand out on the physical shelf, but now the e-commerce voice shelf has arrived. It's getting smaller while the demand from consumers for voice commerce is growing exponentially. This leaves brand to create identities for when consumers can't see the products, such as offering recipes or developing a unique "voice" or audio signature that makes their brands instantly recognizable. Find out what brands need to be doing now to make sure they don't miss the next revolution in branding and marketing.
Wednesday, April 11, 2018
9:10 AM – 9:40 AM
Ushering a New Era in Journalism: How Mobile Is Driving Innovation
Ushering a New Era in Journalism: How Mobile Is Driving Innovation
The New York Times has become the leader in visual digital storytelling by using technology to elevate the art of storytelling and creating immersive experiences that tackle complex and emotional subjects. Join Sebastian Tomich, Global Head of Advertising and Marketing Solutions at The New York Times as he shares how it uses augmented and virtual realities to experiment and pursue innovative ways to create content and bring journalism into the experiential age. ​
9:40 AM – 10:10 AM
Driving Programmatic Success
By 2019, eMarketer predicts that 80% of all programmatic ad dollars will be mobile, and many of the most successful mobile companies have already built out robust programmatic strategies. King.com/Activision is one of the most successful mobile companies of all time, due in large part to their willingness to embrace new technology and monetization methods, while still ensuring quality and brand protection at a global scale. In this co-presentation, Matt Jamison from King.com and Maggie Mesa from OpenX will share details on how King.com has approached programmatic, the impact it's made on their business and larger trends in mobile programmatic that all advertisers should be ready for.
10:10 AM – 10:50 AM
How Mobile Apps are Changing the World
Mobile apps have shaped the way we live our daily lives. Today there is an app for everything and while many focus on entertainment or productivity, there are a category of apps whose mission is to tackle bigger social issues. This rapid-fire session features three companies who have developed apps to reduce food waste, empower students and their families with critical communication tools and turning everyday retail experiences into opportunities for doing social good. Don't miss this inspirational session on how mobile is shaping the future.
11:25 AM – 12:10 PM
Brands are Defining the Market Areas of the Future with Location Data: Here's How
Brands have traditionally turned to market area targeting, but today's innovative brands are taking a new approach and going beyond market area targeting to drive powerful new customer insights. Key to this new approach is location data and its ability to connect consumer audience commute patterns with brands' own store locations. Hear how brands are innovating by creating the market areas of the future, using these audiences to craft more resonant media campaigns, and ensuring that marketing dollars aren't wasted on targeting inefficiencies. You'll also hear real-world examples of how retail, automotive, and dining brands are implementing these techniques. ​
Real-Time Buying: A Guide to Programmatic on OTT
The OTT Industry is moving quickly, and ad buying capabilities across the space are evolving even quicker. With programmatic buying now on OTT, live TV impressions are available in real-time. With this, advertisers purchase full-screen, premium inventory through programmatic private auctions that span both contextual and addressable ad opportunities. With this Breakout Session, learn how to make sure your brand is equipped with the latest on programmatic buying and how to reach audiences across top programs and live sports in real-time.
1:20 PM – 1:50 PM
A MMA MOSTT Research Study: Competing on M.A.R.S. – A Look Into the Emerging Marketing Capabilities for Today's Market​
This session introduces a new framework for organizing marketing work based on Marketing Capability Stacks. In particular, it'll identify five different models for how a firm can combine the stacks to compete more effectively in today's landscape. Join Omar Rodriguez Vila, Assistant Professor of Marketing and Strategy at Georgia Institute of Technology as he shares examples of how the development of these stacks varies across firms, and insights to select the right model for your organization, based on organization design, processes, metrics, skills and culture.​ This is the first of a number of projects brought to you by the MOSTT initiative.​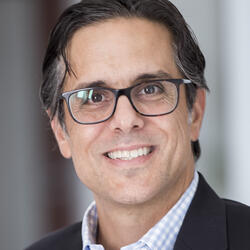 Associate Professor of Practice in Marketing
Goizueta Business School, Emory University

1:50 PM – 2:20 PM
How Rue La La Cross-designs their Mobile Experiences
E-commerce is truly a cross-device experience, with the majority of e-commerce sales now coming from various mobile touchpoints. Rue La La's membership model allows them to deliver a level of personalization that they can tailor to depending on where the customer is in the funnel. In this session, Rue La La's Feng Chang, Senior Director of Growth Marketing and Christine Coffield, Senior Analyst of Marketing will share how through a mix of data and cross-design they can cohesively blend the customer experience and differentiate by platform to drive high value purchases.
2:50 PM – 2:55 PM
Passport to Prizes Announcement
---
2:55 PM – 3:25 PM
What Neuroscience Can Tell Us About Virtual, Augmented and Mixed Reality
Mixed Reality hardware promises to completely change the way that we work, entertain ourselves, communicate with friends and family and learn. Join Dave Meeker, Global Director of Emerging Technology at Isobar for a look how marketers can not only understand how people behave while using these experiences, but also tap into their emotional state through advanced biometrics. Hear how this blend of creativity, technology and neuroscience have come together and continue to evolve as they work to quantify the value of immersive user experiences and justify the investment by brands.
3:25 PM – 3:55 PM
In our digitally connected age, it's a challenge for brands to cut through the noise with credibility. Add a heated political climate and explosive social movements and it's never been harder for brands to earn attention and drive relevance. In this talk, Stacy Minero, Head of Brand Strategy, Fuel​ @ Twitter, will share ways that brands can connect with consumers through purpose driven efforts that are reflective of a brand's company culture. She will be joined by Chris Paul, Executive Director at Verizon who will share insights on their recent 'First Responders' campaign and the company's focus on enabling "Humanability" through technology.
3:55 PM – 4:25 PM
How Visual Discovery Will Transform the Shopping Experience
The digital shopping experience is about more than just the transaction. Shopping as a whole is something bigger: it's the journey of browsing new products, services and brands, and considering how these things fit into real life. Digital shoppers should be thinking about the possibilities their purchases can play in their futures.
In this session, hear how Pinterest uses visual discovery technology, the Taste Graph and hundreds of millions of consumer signals to create an emotional and engaging end-to-end shopping experience. This session will uncover how retailers are leveraging the platform to reach people who are actively considering what to do or buy next to generate demand and grow their businesses.