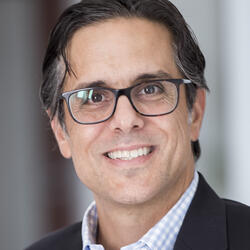 Omar Rodríguez Vila, PhD
Associate Professor of Practice in Marketing
Goizueta Business School, Emory University
Omar Rodriguez Vila joined the Goizueta School of Business in 2018 after six years at the Georgia Institute of Technology where he earned the Core Professor of Year award for the past three years.
Dr. Rodriguez Vila has advised numerous companies on the evolution of their marketing capabilities as driven driven by changes in technology and in the social responsibility of brands. He has studied the creation of real-time marketing capabilities among multinational companies, along with the capability implication of content development for social and mobile environments. He is currently the lead investigator of the M.A.R.S. project – a multi-company research initiative in partnership with the Mobile Marketing Association and Forbes to understand the marketing capabilities necessary to compete in an environment defined by "mobile – analytics – real time – social" dynamics. His work on the integration of brand societal benefits and growth strategies entitled "Competing on Social Purpose" was published in the Harvard Business Review on September 2017.
Prior to his academic career, Dr. Rodriguez Vila held numerous marketing leadership roles at The Coca‐Cola Company including Global Manager of Marketing Capabilities, where he led an initiative to define and measure the capabilities of winning marketing organizations across 45 countries. He was also the Global Vice‐President for Integrated Marketing Communications (IMC) and Integrated Marketing director in China. While in China he led the strategy and design of the Coca‐Cola marketing plan for the sponsorship of the 2008 Beijing Olympic Games.
Dr. Rodriguez Vila holds a PhD in Marketing from the Goizueta Business School at Emory University and an MBA from the Kellogg School of Management at Northwestern University in Evanston, IL.