Agenda
The Agenda will be updated continuously...
Friday, May 31, 2019
1:45 pm – 2:00 pm
Country Manager; Vietnam, Myanmar and Cambodia
Mobile Marketing Association Asia Pacific Limited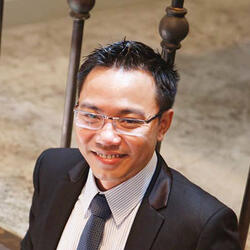 Senior Vice President of Marketing
Suntory PepsiCo Vietnam / Co-Chair of MMA Vietnam
2:20 pm – 2:40pm
Impact of On-demand platforms on consumers, service providers, merchants and brands
On-demand platforms and superapps are enabling stakeholders with technology. These tech companies are well-funded, have a lot of consumers, increasingly rixh data and are staffed with large engineering teams. Over time, this will have an impact on all sectors of the economy.
2:40 pm – 3:00 pm
How audience segmentation works and why it is important to understand the backstage of the process
Sets of audience data are enormous. There are dozens if not hundreds of touchpoints publishers have to collect data. In our presentation we will try to answer the most important questions:
·         What sort of benefits can be extracted from it?
·         How a marketer can use them apart from mere programmatic?
·         How digital audience segment is different from a traditional target audience description?
·         What technology stack that supports data-driven campaigns?
3:00pm – 3:30 pm
CEO Panel - Ad fraud format
Impact of emerging practices vary across firms. Insights to adapt are key in a period of disruption right now with technology disrupting the marketing world impacting huge swathes of Data and Growth driven by e-business. This panel shares changes in marketing capabilities by firms seeking to compete more effectively in today's increasingly technology-led environment, effectively transitioning through these changes.
3:30 pm – 3:50 pm
Teabreak & Networking & Lucky Draw
3:50 pm – 4:10pm
Direct-to-consumer - new opportunities for brands
Direct-to-consumer / digital native brands are growing rapidly and disrupting traditional ones which normally do not own the customer relationships. With the rise of mobile, social and online marketplace, all brands are presented with the unique opportunity to connect directly with their end customers and develop meaningful relationships with them.  Leveraging this opportunity well, brands can build robust customer loyalty and drive incremental sales. Khoi from Facebook will discuss approaches and solutions which can enable brands to move fast on the Direct-to-consumer journey.
4:10 pm – 4:30pm
Leveraging Technology to bridge the online and offline worlds
Consumers are taking omnichannel personalization seriously. What technologies can brands leverage to bridge online and offline personalization? This session looks at successful examples of technologies in use today, such as Artificial Intelligence and Augmented Reality and more.
4:30 pm – 4:50 pm
What is your First Second Strategy & Smarties Annoucement
Earlier this year, the MMA announced the results of a Cognition Neuroscience Research project. This session discusses the implications to the research findings and why they suggest marketers should now develop plans and strategies that address the first one second.
4:50 pm – 5:20 pm
CMO Panel: Offline to Online Matters – Benefits of O2O Business and How to optimize your ROI
Retailers use both online and offline channels as an intensive strategy, allowing them to find potential customers online, raise their awareness of products and services, and draw them to make purchases in brick-and-mortar stores. This panel discusses the benefits to the O2O Business, why online expansion necessary for store owners and the importance of physical stores.