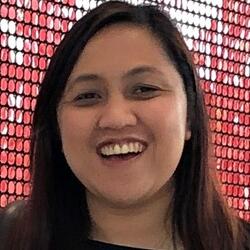 Maria Theresa Jae "Teejae" Sonza
Region Marketing Director, IndoChina
Over 19 years of experience in marketing, franchise and commercial leadership, and category stewardship, across multiple markets within Asia-Pacific, with a consistent track record of solving complex problems amidst challenging environments: reversed ailing brands from decline to growth and turned neglected categories and geographies into key volume and profit drivers.
Teejae was recruited from the university by Coca-Cola Philippines and became part of their Graduate Training Program. After which, she held various positions in field marketing and region business development , channel marketing, revenue growth management and national consumer marketing and promotions for both the carbonated and non-carbonated business for the Philippines. She moved to marketing in 2007 as Brand Manager for the Asia Pacific Charter of Coke with Meals, where she developed strategies , campaigns, and programs for the meals platforms for use across Asia Pacific markets.
then, Teejae has accumulated rich experiences as a marketeer in the Philippines, as Group Brand Manager for Water and Sports, Coca-Cola™, Total Carbonated Soft-drinks business– winning several prestigious company, as well as, industry awards. Teejae had a brief stint as ASEAN Sparkling Marketing Manager, and was later appointed Franchise Marketing Director for Stills (non-carbonated business) for the Philippines. Under her leadership, Coca-Cola Water business in the Philippines almost doubled profits with the Wilkins Trademark, and RTD juice business doubled market share for the period 2015-2018. This was achieved by setting an ambitious vision, backed by strong operational plans, product innovation, and non-traditional way of marketing.
In February 2019, Teejae, accepted the position of Region Marketing Director for Coca-Cola SouthEast Asia Inc. and is primarily responsible for the fast-growing IndoChina Region.