Agenda
Tuesday, December 8, 2020
10:25 AM – 10:30 AM
MMA Turkey - Social Responsibility Project Launch
10:30 AM – 11:10 AM
It's Business Unusual! - CMO Panel
Turkish banks have long been accounted for innovative services and enhanced customer experience. In this discussion, the leading bank executives in Turkey will share insights as how they have accelerated their services for superior customer experience and innovation during these unusal times.
11:20 AM – 11:50 AM
Innovation During Pandemic
12:15 PM – 1:00 PM

---
1:00 PM – 1:30 PM
Fireside Chat with Greg Stuart - Refining the Growth Model Game!
With everything going on in the world today, there has never been a better time for marketers to take a step back and really consider the strength of their growth strategy. That's why the MMA has dived into a new debate series featuring the brilliant marketing minds who authored the four most powerful strategic marketing growth frameworks. Gres Stuart will give an overview about Growth Marketing and different approaches.
1:30 PM – 2:00 PM
Join us as we zoom in on the characteristics of overperforming growth organizations. How they differ in the Why, the What and the How of the organization. We'll be reviewing the concept of Humanized Growth, a concept of growth that recognizes not just the value of shareholders but all stakeholders, including our colleagues, our consumers, the communities we operate in, aswell as the capital markets. Within that, we'll be looking at how the marketing leader's role can help drive that humanized growth, reviewing the profile of the 'da Vinci Growth CMO.' A CMO that recognizes that for success, we need to bring together the power of the right side of the brain, the left side of the brain, and the heart.
2:00 PM – 2:35 PM
Growth Marketing: Balance of Art and Science - CMO Panel
As marketing has become a sophisticated balance of art and science, the question of how to optimize the internal marketing organization to deliver increased performance and business growth is more important than ever before. Whether you have a local vs global, matrix vs network organization, this session will bring together marketers and experts to discuss circumstances under which one is better than the other, when to outsource or insource, and the role of culture in optimizing the marketing organization.
2:40 PM – 3:20 PM
Growth-generating Strategies - Panel
To compete and lead in an ever challenging environment, marketers need to be prepared for what the future holds. With multiple channels and tools at their disposal it can be hard for marketers to know what to focus on. This panel will focus on growth marketing strategies on how to boost sales with proven marketing strategy
3:20 PM – 3:40 PM
Designing A Modern Marketing Organization
Omar is an esteemed Marketing strategy and capability professor, researcher, and executive with over 20 years of experience working with multi-cultural teams in North America, Europe, Latin America and Asia. He will be giving a keynote on his recently published article at HBR that focuses on a new marketing framework for marketing organization in the New Age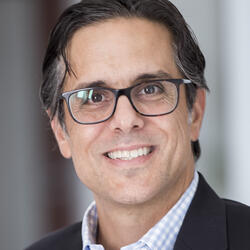 Associate Professor of Practice in Marketing
Goizueta Business School, Emory University

3:40 PM – 4:10 PM
Fireside Chat with Mena Thought Leaders
This session brings together the top thought leaders discussing growth, company performance, market challenges and the future of business models. Food, Ecommerce, Delivery and Vertical marketplaces and Growth examples...
Wednesday, December 9, 2020
10:10 AM – 10:25 AM
5 Optimization Tactics to Help You Scale
10:25 AM – 10:40 AM
How Marketers Optimize the User Journey to Increase Revenue
10:40 AM – 11:10 AM
Demystifying Subscription Tracking
Subscription services are booming, with an average of $20 spent per month per customer. And while only 1% of apps monetize with subscriptions, over 90% of mobile consumer spend comes from subscription apps. With people signing up for apps with regular payments across all categories - entertainment, shopping, fitness, lifestyle and more, there is a real opportunity for new apps to enter the market. We will discuss the challenges, learnings and best practices for mobile subscription apps, and you will leave with a deeper understanding of how you can leverage subscriptions to your advantage.
11:10 AM – 11:30 AM
Future of Video Marketing
11:40 AM – 12:00 AM
AI - the game changer for customer journey optimization
The past year was full of challenges and changes - SAS's latest consumer polls unveiled that 15% of the consumers started using digital channels for the first time during the lockdown period. Paired with the proliferation of new channels brand have a huge elephant to devour! But do not worry! SAS's solution to optimize customer journey granularly by appreciating latest machine learning techniques will help you turning the table in your favor! Get inspired but our approach and latest study results!
12:30 PM – 1:00 PM
Navigating through the new Privacy Revolution
Privacy has become not only important with new laws and legislation, but also it is a primary concern to the consumer. How do you navigate through this changing privacy landscape to build Trust with your consumers, within the privacy laws and still activate your marketing needs.
1:00 PM – 1:30 PM
---
2:00 PM – 2:20 PM
New Trends in Mobile Gaming
Gaming is now the biggest mass marketing channel, similar to what social media marketing was 15 years ago. The stereotype of gamers is changing across all age groups and social demographics; It's more female, affluent and older than you think. PC to Console to Mobile and now eSports are all showing the value of engagement to advertisers especially during the recent COVID times. Join this discussion to understand how brands can communicate effectively within this massive gaming ecosystem.
2:20 PM – 3:00 PM
New Trends in Mobile Gaming Master Class
3:10 PM – 3:40 PM
Learnings from China: Ecommerce 4.0 - Live Shopping E-commerce
Bessie Lee will speak on one of the hottest trends in marketing in China - live streaming ecommerce, and how live streaming is creating new and innovative ways for brands and retailers to connect with consumers. With 5G developing, advanced technologies such as data analytics, VR and AR technologies have given livestreaming huge market potential. Bessie will also touch on the challenges for brands looking to add live streaming to their retail strategy. As CEO of WPP China, Bessie played a key role in the digital transformation of China's largest advertising group, whilst making angel investments in the sector. Three years ago, she left WPP to launch China's first Martech VC fund at Withinlink, which invests in AI-powered tech start-ups that represent the next wave of innovation in China.
3:40 PM – 4:00 PM
Why Conversation Is the Future of Commerce
---
4:00 PM – 4:30 PM
New Business and Startups in Turkey & MENA