Architecting the Future While Relentlessly Delivering Today's Business Growth
Acerca de Nosotros
¿Quiénes somos?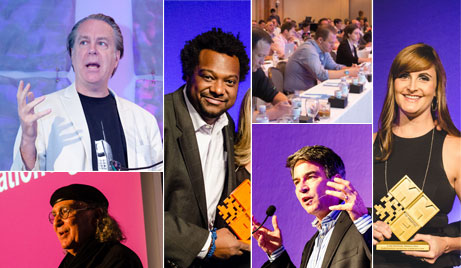 La MMA es la asociación líder mundial sin fines de lucro comercial, compuesta por más de 800 empresas asociadas, en alrededor de cincuenta países de todo el mundo. Nuestros miembros provienen de todas las facciones del ecosistema de marketing móvil, incluyendo los comercializadores de marcas, agencias, plataformas tecnológicas móviles, compañías de medios, operadores y otros. La misión de la MMA es acelerar la transformación e innovación de marketing a través de Mobile, impulsando el crecimiento del negocio con un fuerte y cercano compromiso del consumidor.
La misión de la MMA está anclada con cuatro pilares básicos:
Cultivar Inspiración
dirigido a los Chief Marketers, guiando con best practices e innovación.
Construir Capabilities para el éxito
fomentando los conocimientos y la confianza dentro de la organización
Demostrar Medición e impacto
proveer la efectividad e impacto del Mobile a través de la investigación proporcionando la medición del ROI tangible y otros datos.
Defensa
trabajando con socios y nuestros miembros, para proteger la industria del marketing móvil.
Adicionalmente, los comités de la MMA trabajan en colaboración para desarrollar y abogar por best practices y estándares de desarrollo global. Ver todos los programas e iniciativas.
Global Operations: Who We Are
Comprised of over 800 member companies globally and 14 regional offices, the MMA is the only marketing trade association that brings together the full ecosystem of marketers, tech providers and sellers working collaboratively to shape the future. The MMA's global headquarters are located in New York with regional operations in Asia Pacific (APAC), Europe/Middle East/Africa (EMEA), and Latin America (LATAM).
---
Our Executive Team
Our Members Include
---
Not an MMA member? Learn more about becoming an MMA member here.
What We Do
We enlighten you with a path to the future.
---
We empower you with unique knowledge and connections.
---
We enable you with science-backed truths and tools.
At our core, the MMA is committed to science and truth. Through a rigorous and intensive research agenda in the areas of measurement, organization, creative, emerging technologies and more, we give the confidence to drive change and help you make better decisions more quickly. Marketers like Wal-Mart have used these insights to reallocate hundreds of millions of dollars in ad spending.