Architecting the Future While Relentlessly Delivering Today's Business Growth
Sobre
Quem Somos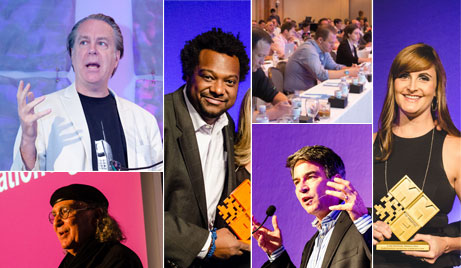 A MMA é a principal associação sem fins lucrativos do ecosistema mobile no mundo, com mais de 800 empresas associadas de, aproximadamente, 50 países. Nossos associados vem de todos os cantos do ecossistema do Mobile Marketing incluindo marcas anunciantes, agências, plataformas de tecnologia mobile, empresas de mídia, operadoras, entre outros. A missão da MMA é acelerar a transformação e a inovação do marketing através dos dispositivos móveis, promovendo o crescimento do negócio com grande, e próximo, engajamento do consumidor.​
Quatro pilares principais suportam a missão da MMA:
Cultivando Inspiração
Direcionado ao Anunciante; direcionado as melhores práticas e promovendo inovação.
Construindo Capacidades para o Sucesso
Promovendo conhecimento e liderança dentro das empresas anunciantes / marcas.
Demonstrando Métricas e Impacto
Provando a eficácia e o impacto do Mobile através de pesquisas, apresentando uma métrica de ROI tangível e outros dados.
Defendendo
Trabalhando com parceiros e nossos associados para proteger a indústria do Mobile Marketing.
Comitês adicionais da MMA trabalham em colaboração para desenvolver e defender as melhores práticas globais e promover o desenvolvimento dos padrões. Veja todos os Programas e Iniciativas.
Global Operations: Who We Are
Comprised of over 800 member companies globally and 14 regional offices, the MMA is the only marketing trade association that brings together the full ecosystem of marketers, tech providers and sellers working collaboratively to shape the future. The MMA's global headquarters are located in New York with regional operations in Asia Pacific (APAC), Europe/Middle East/Africa (EMEA), and Latin America (LATAM).
---
Our Executive Team
Our Members Include
---
Not an MMA member? Learn more about becoming an MMA member here.
What We Do
We enlighten you with a path to the future.
---
We empower you with unique knowledge and connections.
---
We enable you with science-backed truths and tools.
At our core, the MMA is committed to science and truth. Through a rigorous and intensive research agenda in the areas of measurement, organization, creative, emerging technologies and more, we give the confidence to drive change and help you make better decisions more quickly. Marketers like Wal-Mart have used these insights to reallocate hundreds of millions of dollars in ad spending.