March 24, 2021

to

March 25, 2021
Introduction to Mobile Marketing
Join Online MMA x CDP Mobile Marketing Certification Program, a 2-day instructor-led, Live Online Training that will help you kick start understanding of Mobile Marketing Strategy and Execution. Designed as an online workshop, you will be introduced to new concepts, latest trends, technologies and tools to help you develop a mobile-first marketing strategy. Take advantage of the depth of learning and best practices across APAC right from your mentor!
Objective
By the end of the program, you will be able to understand various mobile marketing executions/key concepts, and the best practices related to each.
What to Expect: Latest Insights, Best Practices & Trends on Mobile Marketing to help you develop a Mobile-first Marketing Strategy
Modules
See the agenda for further details of the Modules on the tabs above
Module

Module Overview

Module 1

Mobile Landscape & Getting into the Mindset

Everything on Digital is Mobile
Mobile Trends & Statistics in APAC 
- Impact of COVID-19 on Digital Media Consumption in APAC
Essential Mindsets When Going into Mobile

Module 2

The Value of Mobile in Marketing

Opportunities and Challenges

Module 3

Mobile Executions

A. Awareness 

Mobile Display Ads
Social Ads on Mobile

B. Consideration 

Mobile Search Ads
Mobile Video

Mobile Apps, Websites, and Accelerated Mobile Pages
Personalization and m-Commerce

Module 4

Mobile Measurement

Mobile Data & Measurement

Module 5

What's next for mobile

Mobile Advertising (overview)

Mobile Innovation (overview)

Touch-point integration 
Technologies & tools
Creativity & Innovation
Certification Information
You will receive an MMA and CDP Certification that is earned after finishing the course and passing the certification exam.
What is MMA CDP Certification?
An MMA and CDP Certification is a trusted digital professional certification recognized by the industry within the ASEAN region. It is an assurance of credibility, integrity, and the highest standard of digital education. Recognized by a network led by the Mobile Marketing Association (MMA), 500+ members of CDP's Subject Matter Experts, industry partner associations, top corporations, and local & international advisory board members. It is a formal documentation that demonstrates proficiency and competency in digital.
Your MMA and CDP Certification and education will allow you to network with like-minded professionals. Should you wish to earn an MMA and CDP Certificate, you are required to complete an MMA CDP Digital Training program, take, and pass the Certification Exam.
Registration
| | |
| --- | --- |
| MMA CDP Mobile Certification Program |   |
| Price | USD 250 |
| Contact us for group pricing with a minimum registration of 4 students | Register |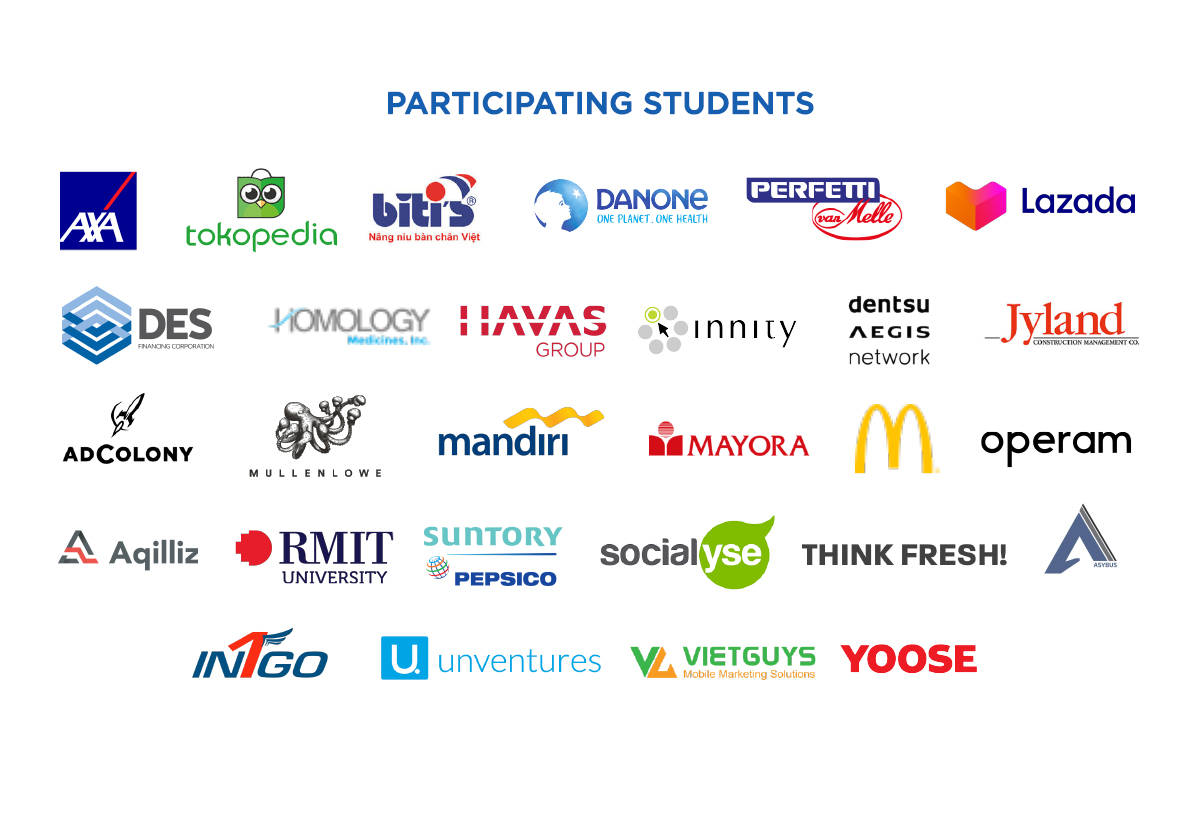 Day 1. Mobile Readiness
Time (SGT)
Agenda
Sub-topics
1:30 PM - 2:00 PM
 
REGISTRATION
2:00 PM - 2:15 PM
Orientation
Introduction to CDP and MMA
Program Content and Requirements
Technical Walkthrough
Introductions
2:15 PM - 2:40 PM
Mobile readiness survey
(Attitudinal Survey)
Student survey + Discussion
Mobile Landscape
& Getting into the Mindset
Everything on Digital is Mobile
Mobile Trends & Statistics in APAC 2020
- include Impact of COVID-19 on Digital Media Consumption in APAC
Essential Mindsets When Going into Mobile
3:00 PM - 3:10 PM
Q&A BREAK & Module Checkpoint
Q&A
Recap Quiz
3:10 PM - 3:40 PM
The Value of Mobile in Marketing
Opportunities

Wider reach - General mobile penetration whether feature phone or smartphones
More targeting option (geo-targeting and device targeting)
Instantaneous interactions
 - Micro-moments , conversational commerce
Entire conversion funnel in a single device


Challenges:

Parallel production - mobile and tv
Privacy issues

3:40 PM - 3:50 PM
Q&A BREAK & Module Checkpoint
Q&A
Recap Quiz
3:50 PM - 4:40 PM
Mobile Executions

A. Awareness

Mobile Display Ads
Social Ads on Mobile

B. Consideration

Mobile Search Ads
Mobile Video

4:40 PM - 4:50 PM
Q&A BREAK & Module Checkpoint
Q&A
Recap Quiz
4:50 PM - 5:00 PM
Orientation
Activity Instructions
Q&A
5:00 PM - 5:30 PM
Activity Break | Learning Stretch Goals
A list of challenges of each mobile execution. Students try to complete all in 30 minutes. SME/Facilitator then checks and discusses each in the end
5:30 PM - 5:45 PM
CHECKING OF WORK AND DISCUSSION
5:45 PM - 6:00 PM
RECAP, EVALUATIONS, and REMINDERS
Day 2. Mobile Competence
Time (SGT)
Agenda
Sub-topics
1:30 PM - 2:00 PM
 
REGISTRATION
2:00 PM - 2:15 PM
Orientation
Recap of Previous Session
Requirements
Introductions
2:15 PM - 2:45 PM
Mobile Executions

C. Conversion

Mobile Apps, Websites, and AMPs
Personalization and m-Commerce

D. Loyalty

2:45 PM - 3:10 PM
Q&A BREAK & Module Checkpoint
Q&A
Recap Quiz
3:10 PM - 4:10 PM
Mobile Measurement
Mobile Data & Measurement
4:10 PM - 4:55 PM
What's next for mobile?

Mobile Advertising (overview)

Mobile Innovation (overview)  

Touch-point integration 
Technologies & tools
Creativity & Innovation

4:55 PM - 5:00 PM
Orientation
Activity Instructions
Q&A
5:00 PM - 5:30 PM
Activity Break | Learning Stretch Goals
A list of challenges of each mobile execution. Students try to complete all in 30 minutes. SME/Facilitator then checks and discusses each in the end
5:30 PM - 5:45 PM
CHECKING OF WORK AND DISCUSSION
5:45 PM - 6:00 PM
RECAP, EVALUATIONS, and REMINDERS