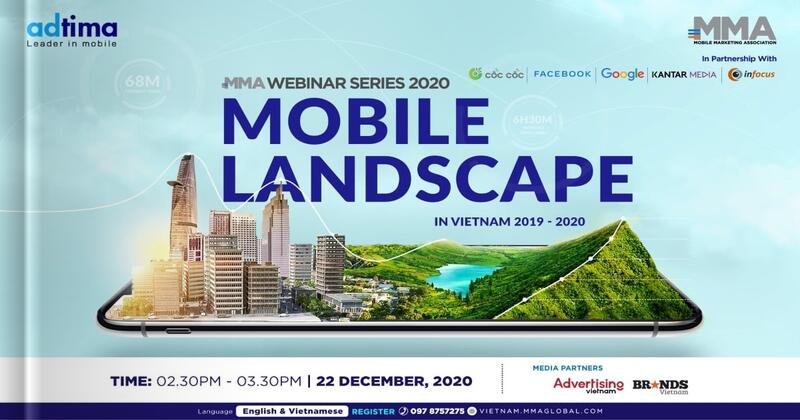 Mobile Landscape in Vietnam 2019 - 2020
MMA, in collaboration with Adtima, has established a detailed report which aims to provide marketers with valuable figures of mobile marketing in Vietnam during 2019-2020, especially when the rise of mobile trends has great contributions to various campaigns' success.
The data and information in the report will be revealed in the webinar which includes 2 main sessions: the mobile marketing infrastructure and the mobile marketing trends 2019-2020.
The mobile marketing infrastructure focuses on the ecosystem of mobile marketing which demonstrates channels that have defined mobile marketing and valuable data that mobile marketing has generated. This part also provides insightful research regarding the reach of mobile among consumers in Vietnam that marketers can leverage to effectively approach consumers and influence their purchasing decision. Through the mobile marketing infrastructure session, we will discuss the power of technology such as Artificial Intelligence (AI), Audio Advertising, VR/AR, Location-based Services, and the mobile retailing platform in creating significant and effective interaction with consumers.
Key Highlights:
The growth rate of internet users in Vietnam has increased by 10% during 2019-2020, higher than the growth rate of the total population (0.9%).
More than half of the Vietnamese internet population (53%) have mobile connection via broadband (3G – 5G) with high speed.
Smartphone is the most popular device in Vietnam with 93% penetration.
Online rural households (with 67% of them own smartphone) are more valuable than the offline rural household (with only 16% of them own smartphone).
Chatting/texting online, using social media and reading news are the activities that have the highest frequency in the urban area which these activities are mostly implemented via smartphone.
Online Chatting, Using Social Media Network, Entertainment, and Map apps are the most used mobile apps.
Innovative technologies such as Artificial Intelligence (AI), Audio Advertising, VR/AR, Location-based Services, and the mobile retailing platform have been shaping the future of mobile marketing and provide an intelligent way to capture consumers' attention as well as influence their purchasing decision.
MMA Members, log in to download now.
Not an MMA Member? Please fill out the form below to find how you can get access to this document and to learn more about other useful resources.