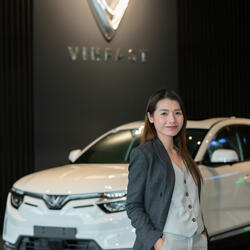 With a pioneering spirit and unwavering commitment to driving progress, Denise Thi emerges as a prominent figure in the Asian advertising industry. Presently holding the role of Global Chief Marketing Officer at VinFast, her journeys alongside the promising Vietnamese electric vehicle manufacturer in their global ambitions.
Denise's journey is marked by a dedication to transformative strides beyond advertising and marketing, but people lives and business. An advocate for technology's potential to enhance human life, she tirelessly innovates business solutions and contributes to tech-related projects as a strategist and advisor. As the former co-founder and Chairwoman of Isobar (Vietnam), a prominent agency, she has steered groundbreaking advertising campaigns. In 2020, her pivotal role in introducing an AI assistant for Thanh Nien, a renowned mainstream media outlet in Vietnam, underscored her influence. Notably, Denise became the first Vietnamese woman honored by Campaign Asia in their "40 Women to Watch in APAC" list for her contributions to advertising transformation.
Beyond her remarkable marketing career, Denise invests herself in empowering vulnerable groups like women and the youth. Co-founding The Caterpies in 2018, a social enterprise dedicated to childhood education, and publishing her debut book to guide young minds in career-building exemplify her commitment. A pioneer in Google's transformative Women Will program, she co-founded the Youth Empowerment School, where she nurtures a positive and effective young generation in Vietnam.
Armed with technological insights, marketing brilliance, and an empathetic connection to humanity, Denise confidently leads VinFast's global conquest. As the Global Chief Marketing Officer, she and her team have been progressively realizing VinFast's vision as a potent force in the global electric vehicle revolution, with the ability to embrace excellency and inclusive culture, to lead multiple teams with diversed dynamic when VinFast sets to different markets.
Denise holds great commitment with VinFast as a visionary trailblazer propelling the company towards international recognition and lasting change.