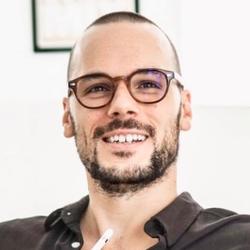 Alan has 12 years of experience in branding and communication, mostly in an international environment.
He is co-founder and CEO of Happiness Saigon the Creative Connectivity Agency in Vietnam and South-East Asia working along partners like BOSCH, PEPSICO (SPVB), UNILEVER, ABBOTT, NIVEA, SPOTIFY, etc.
Before moving to Asia to set-up Happiness in 2015, Alan worked in London for Global Unilever accounts.
Alan has been recognised as one of Asia Pacific's 40 under 40 talents, awarded by Campaign Asia Pacific.
In 2018 Happiness Saigon has been recognized by Campaign Asia as a TOP 2 Creative & Independent Agency in Vietnam.
In 2017, and 2018 the Agency is recognized as Vietnam's Hottest Creative Agency by Campaign Brief Asia.