A Marketers Guide to Messaging: Trends and Best Practices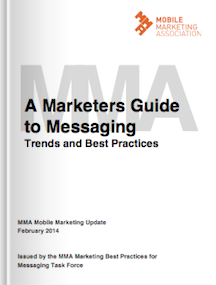 A Marketers Guide to Messaging: Trends and Best Practices
This white paper is designed to provide marketers with an overview of the best practices and trends when marketing to consumers on mobile devices, via text messaging aka SMS (short message service), MMS (multimedia messaging service), push notifications, or any other mobile messaging media.
In this document we will provide an overview of messaging within the context of mobile marketing and not just mobile advertising, as there are clear distinctions between the two disciplines. Mobile messaging refers to the discipline of opt-in, push marketing to individual consumers, via connected devices. Mobile display advertising is generally pushed to a mobile device, within a mobile web site or within a mobile app, and in many cases, permission is not required to send that ad. Mobile marketing should be seen for what it is: the ability to utilize a collection of different media paths, including SMS and MMS messaging, push notifications, mobile web sites, apps, mobile video, social, email and advertising, to reach and engage with mobile consumers. Messaging, within this context, can be seen as similar to direct marketing where the objective is to build a database and to extend offers or promotional content to mobile users, based on an intimate understanding of their wants and needs.
MMA Members, log in to download now.
Not an MMA Member? Please fill out the form below to find how you can get access to this document and to learn more about other useful resources.