Research Reveals The Great Divide When It Comes To Marketing Growth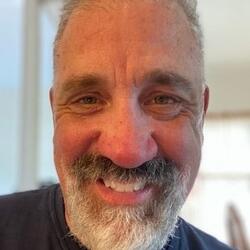 Author Roy T. Bennett once said: "It's only after you've stepped outside your comfort zone that you begin to change, grow, and transform." Now, I don't think Mr. Bennett was referring to marketers when he said this – I'm thinking this is more of a general, overall human declaration but it is absolutely applicable to marketers in the context of growth.
Marketers are a fickle bunch; I know because I am one. We can sometimes get stuck in our old ways AKA our comfort zones. But that's not a good place to be, not in the world we all live in where things can change in less time it took you to read these very words.
Rapidly Evolving Science
Competing growth networks is ever shifting and as MMA Global CEO Greg Stuart put it "Marketers must understand this rapidly evolving science and put continuous effort into validating or re-validating them for their business."
In other words, marketers need to break free from comfort zones and there should be no resting on any laurels for what worked today, may not work tomorrow.
Entitled the Marketer Benchmark Study on Growth, MMA Global conducted a survey of more than 200 mid to senior-level marketers at medium to large companies. This research – which is part of MMA's Great Marketing Growth Debate – highlights the need for marketers to increase their expertise in applying and measuring the effectiveness of growth strategies to rationalize marketing's contribution to overall company growth.
As Norm de Greve, MMA's North America chair emeritus and CVS CMO told Forbes, "the study was a result of discussions that fellow MMA board members and CMOs were having about growth frameworks."
The main focus of the research was to answer two critical questions:
What is the level of marketing alignment when it comes to driving growth?
How do companies approach marketing growth?
Aligning On Growth
The research revealed that nearly two-thirds of marketers are in alignment when it comes to their growth strategies. However, when we dug a little deeper, we began to see some differences when it came to level of experience as the alignment is significantly stronger among senior team members (83%) compared to middle management and other levels where growth alignment drops to 50%.
Take note of these differences as you read on.
When it comes to awareness of marketing growth frameworks, most marketers are only familiar with 1-2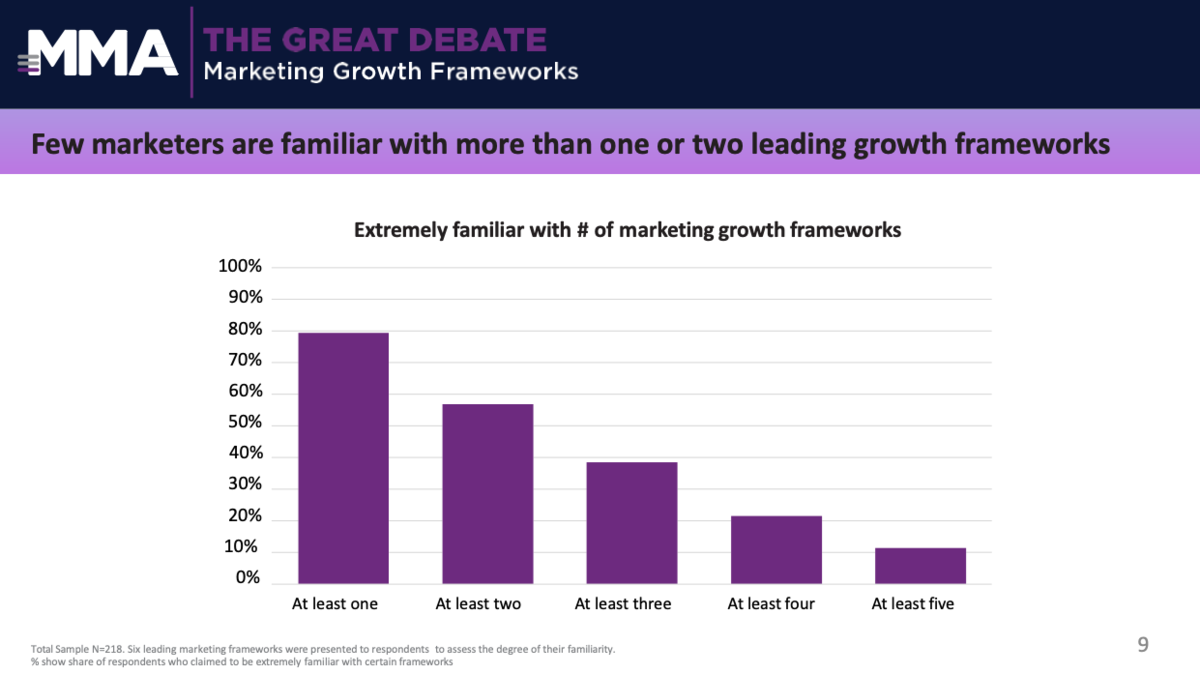 … yet the research also revealed increased familiarity with the frameworks is a step towards better alignment in terms of growth strategy.
The Great Divide – How To Approach Marketing Growth
As if that wasn't enough of a divide – the more growth frameworks you know, the better aligned you will be – there is a much more pronounced divide when it comes to how to best achieve marketing growth. 
This striking, right-down-the-middle split is very telling indeed. As de Greve succinctly put it, "The fact that there is such a divide among marketers on how to best maximize growth supports the need for industry conversations on the topic."
In Closing
Clearly there is not a one-size fits all when it comes to marketing growth frameworks. As Linda Lee, CMO of Campbell's who oversees a variety of brands, put it, you cannot rely on just one framework. "When I think about the growth frameworks that were presented in the series (the research), I think it solidified my belief that you can't just have one," she told Forbes. "It helps with simplicity but doesn't work when you have a broad portfolio of different categories, different brand sizes and brands at different stages of their development."
Marketers need to remember to avoid that comfort zone trap. Amardeep Kahlon, CMO of Reckitt says one of the classic frameworks that he's used heavily was around mental availability, building distinctive brands and reaching as many people as you can. "But I've also evolved," he added. "I'm doing some work with my data science team about experiments demonstrating how we can influence that moveable middle up to the higher purchase propensity. So, I'd call myself an evolutionary framework user."
The bottom line it's every marketer's responsibility to understand the rapidly evolving science of competing growth frameworks and put continuous effort into validating or re-validating them for their business.
Or, as de Greve put it: "If you don't have a framework for growth, then you really don't have a framework against which to evaluate all of the shiny objects that show up every day."
Click here to download the full Marketer Benchmark Study on Growth report.
More conversation, as de Greve said, is needed and it's why MMA Global created the Growth Debate Series including the CMO Roundtables On Growth. If you haven't already be sure to register for this series which brings together leading CMOs to discuss and debate key areas which have a direct role in achieving true marketing growth.
Blog