July 21, 2010
Submitted by Scanbuy, Inc.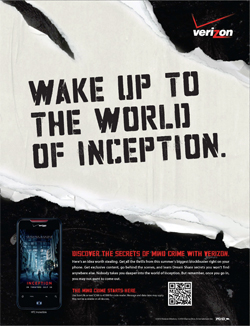 Objective:
Verizon teamed up with ScanLife to promote the wide variety of apps available using the DROID devices. "QR" Codes were placed throughout an integrated campaign which included print ads, in-store displays, direct mail, websites, and even iPad ads.
User Experience:
Once a consumer sees material with a code, they were directed to use the ScanLife app, or download it by texting SCAN to 43588 for "Instant Gratification."
Users with an Android powered device are linked directly to a specific application on Android Market for download, or a mobile site with some of the top apps. If a user scans the code using another type of Smartphone, they are redirected to a mobile formatted site that explains the benefits of the DROID and the variety of apps available.
Results:
In just over three months, the campaign has seen over 150,000 scans, making it the most successful ScanLife campaigns in North America. The technology has opened up a world of immediate access for DROID customers directly from a wide variety of material.
Key Learnings:
Using codes in an integrated way, across media will significantly increase results
The web is a good environment for codes if it adds value (i.e. linking to mobile app downloads)
Codes should provide immediate access to relevant content when consumers need it
The technology is universally used across a wide range of age groups
The full case study with more images and charts can be found here.