February 26, 2009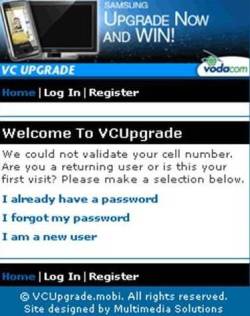 SITUATION
Vodacom is South Africa's leading cellular network. With the highest market penetration, Vodacom has the largest user base locally, and in neighbouring African countries. Vodacom currently offers their customers 2 main contract types, namely traditional contracts and prepaid vouchers that are used to recharge their available balance. It has always been a serious drive for Vodacom to move their prepaid base onto contracts to increase revenue and retentions, together with motivating clients who are on Contract to renew their package types and upgrade their handsets.
However, the customer experience at that time of Upgrading their contract was very negative. Not only were customers never aware of their upgrade status, but when they did decide to upgrade, the process was marred by long waiting times in store queues, improper help regarding features of new handsets, or waiting on the line to speak to a call centre agent!.
TACTICS
With these concerns in mind, Multimedia Solutions implemented a Mobile Portal driven by all media types (TV, Radio, Print, MMS, SMS and Mobile Marketing), to not only notify users that they are due for an upgrade, but also drive users to the VCUpgrade MobiSite where they could upgrade their contract handsets without the traditional waiting periods and queues. Upgrades would be facilitated easily, with no need from the user to ever contact the Vodacom call centre, all direct through the MobiSite!
Media used throughout the multiple campaigns included:
• TV Ads
• Radio ads
• Mobile banner advertising on Vodafone live!
• Multiple MMS campaigns targeted towards customer who were due for an upgrade
• Print Ads
• Newspaper print ads
The Mobile medium was found to be ideal, as it targeted the very device that was the focus of the campaign. Users were able to receive the marketing message and respond to it immediately.
Furthermore, the MobiSite allows users to access relevant device information on handsets they know they are able to upgrade to, ensuring they are able to make an informed decision before requesting the upgrade.
ACTION
Multimedia Solutions developed and managed:
• ALL TV Ads, including 10 second stings and squeezebacks featured during the tri-nations rugby games
• ALL MMS campaigns used to market the MobiSIte and special promotions
• Print Ads
• Radio Ads
• SMS Marketing,
• Upgrade portal, together with user applications and reporting
With more mobile phones in the world than televisions and PCs combined, and with penetration levels approaching 90% of the adult population, it allows advertisers and direct marketers to target a previously unreachable mass market.
As a medium, mobile offers advertisers the ability to:
• Select a target audience that matches a target market profile - generating more interest, actions, sales and profit!
• Maximize budget and reduce wasteful broadcasting...
• Guarantee communications are seen and heard by the audience specified...
• Integrate mobile media direct response mechanisms into ATL and BTL campaigns, measurable for performance reporting!
• Convert response to actions and close the deal, following through with personalized communications.
EXECUTION
Vodacom experienced much success in the uptake of their Upgrade offers thanks to MMS campaigns run by Multimedia Solutions and various Radio and TV advertising campaigns that served
to inform and notify subscribers across the broadest range possible. However, the final stage
of the Uptake was still solely in the hands of the customer; Vodacom relied on the
subscriber walking into an outlet and physically upgrading. In addition to this, various other problems existed with the process surrounding a subscriber upgrading his handset. Most subscribers, despite the best efforts, still remained unaware of their contract status and whether they qualified for an upgrade or not. As a result, they simply would not.
Multimedia Solutions proposed a completely digital approach to marketing upgrade offers,
informing and educating the customer as to new handset capabilities, as well as allowing them
to apply directly over their phone for the upgrade offering of their choice, via the VCUpgrade
MobiSite.
The first phase of the MMS campaign consisted of MMS messages sent to all customers who were overdue for an upgrade. The MMS notified the subscriber of his current status, and provided him with a link with which to visit the VCUpgrade MobiSite.
The MobiSite served as the central point of communication between Vodacom and the subscriber.All information was accessible via the MobiSite regarding the promotional campaign, and visitors were able to immediately request to be contacted regarding the particular deal.
RESULTS
The initial MMS campaign created a hype around the giveaway, with more information available on the MobiSite once accessed.
Total Site Hits: 90 331
Total Page Views: 1 028 398
Upgrade Requests via MobiSite: 10 031
Shortcode requests for Direct Link via MMS campaigns, TV Ads and Radio: 47 278
The same upgrade procedure was followed with the Vodacom Business base – High end users with large contract spend and low uptake on Upgrades. Over a single month, the MMS with call-to-action to the mobiSite, resulted in a 600% increase in uptake!
Each MMS that is delivered features a shortcode that users can SMS to and receive a direct link to the MobiSite. Once activated, the link allows us to track the users who access the site and measure exact interest.
URL: www.vcupgrade.mobi