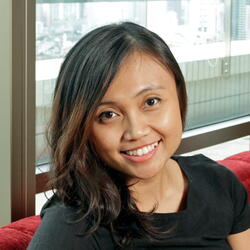 Veronica Utami
Country Marketing Director - Indonesia, Philippines and SEA Next Billion Users
Veronica joined Google in April, 2015. She has 13 years of experience as a marketer in the consumer goods industry, including her last role at Total Oil Indonesia and a career before that with Procter & Gamble. She has held regional roles in Singapore and Bangkok and was listed as one of the Top 25 Young Marketers to watch by SWA in 2009.
At Google her job is more than marketing products to users and advertisers. Her role is to help transform the digital ecosystem -- from users and creators to publishers and advertisers -- into a growth engine for the Indonesian economy.
Outside of work Veronica is a Brand Advisor for indorelawan.org and she counts playing board games and watching movies with her two sons, aged nine and seven, as one of her favorite pastimes. She and her husband, a professional chef also own their own cooking school.