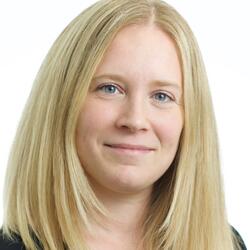 Valentina Marastoni-Bieser
Executive Vice President of Marketing
Valentina is the Executive Vice President of Marketing at leading location intelligence and measurement company Cuebiq.
As head of Marketing, Valentina spearheads all aspects of the company's marketing and communications. She has managed the development and expansion of the Cuebiq brand since its inception, playing an instrumental role in the growth of the brand from newcomer to leading player in the location space.
Valentina brings over 12 years of marketing and brand building experience in the martech, technology, and advertising industries. Prior to Cuebiq, she worked for leading media organizations NBC Universal and USA TODAY, focusing on integrated marketing and product marketing, leading revenue generating marketing partnerships and groundbreaking programs for advertising clients. Her career began in the tech start-up world where she found her passion for B2B marketing and brand building.
Valentina holds an MBA from Fordham's Gabelli School of Business.
Cuebiq is a leading consumer insights and measurement company leveraging the largest database of accurate and precise location data in the U.S. Its data intelligence platform analyzes anonymous location patterns to allow businesses to glean actionable insights and better understand the offline consumer journey. Cuebiq's SaaS platform provides clients offline location analytics, real-time audience optimization, cross-channel footfall attribution, as well as geo-behavioral audiences for cross-platform ad targeting. Cuebiq is headquartered in New York with offices in San Francisco, Chicago, Italy, and China.
Cuebiq is also a leader in utilizing data and insights in the service of a variety of causes through its "Data for Good" initiative. The company shares location intelligence with researchers at top universities and nonprofit organizations to drive innovation for causes such as improving quality of life in underserved communities, natural disaster response, and smart city development. Visit Cuebiq at www.cuebiq.com.