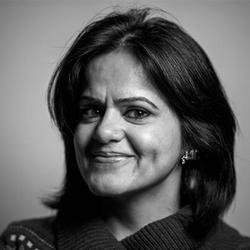 Tripti Lochan
VML SOUTHEAST ASIA AND INDIA
Tripti has been with VML Singapore since 2005, and has led the agency as Chief Executive Officer since early 2008. Tripti has been a driving force behind VML's expanded capabilities in digital and mobile, and has driven her team to become a top integrated marketing agency in Southeast Asia & India. Her presence has even helped VML expand in the region by the opening of offices in Mumbai, New Delhi and Jakarta.
In her executive leadership role, Tripti consults on client businesses including Kelloggs, ICICI, 3M, Wendy's, Revlon and Castrol. Regularly sought for opinion on all matters digital, Tripti judges award shows and speaks at diverse conferences including keynotes at ad:tech and CrowdsourcingWeek Global.
Tripti has worked extensively in Asia, the Middle East and in the US, leading teams and helping client businesses to harness the power of the digital medium.
A graduate from the Birla Institute of Technology, Mesra, with a Bachelor's of Engineering in Electrical and Electronics, Tripti spends her free time with her husband and their two children. She enjoys reading, running and yoga.