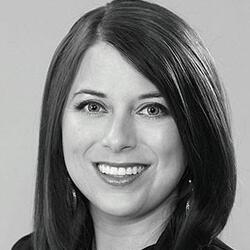 Tressie Lieberman
VP, Digital Marketing and Off-Premise
Tressie Lieberman, Vice President of Digital Marketing and Off-Premise for Chipotle, is responsible for driving digital engagement and growth of new ordering occasions. In this role, Lieberman oversees a team dedicated to building relationships with the brand's community through social media, the Chipotle Rewards loyalty program, and CRM. Lieberman also drives the strategy and marketing of the delivery and catering business through strategic partnerships and promotions. 
Under Lieberman's leadership, Chipotle has evolved consumer engagement to include breakthrough marketing initiatives such as launching the Chipotle Rewards program utilizing Venmo as a social network, creating an influencer-inspired menu with influencer David Dobrik's namesake burrito and building the brand's leadership on TikTok. 
With a passion for food and innovation, Lieberman also held leadership positions at Snap Kitchen and Taco Bell. At Snap Kitchen, Lieberman led a full menu, overhauling the innovation timeline to acheive an on-trend assortment. During her Taco Bell tenure, Lieberman created an incubator that focused on rapid prototyping, e-commerce, and delivery. Lieberman also designed and drove the social media and influencer strategy that positioned Taco Bell to win in youth culture. 
Lieberman proudly supports her alma mater, The University of Texas, through guest lectures and student mentorship. Lieberman is a member of the board of directors of The Mobile Marketing Association and serves on the Adweek Innovators Council. She has achieved accolades such as being named on the Nation's Restaurant News Power List and Advertising Age Women to Watch.