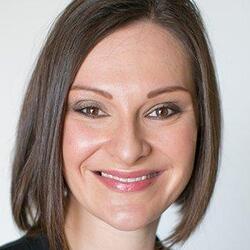 Tatyana Zlotsky
VP/GM Marketing, Partnerships and Global Digital Innovation
American Express Global Commercial
@tatyanazlotsky
Tatyana Zlotsky is a strategic marketing leader with experience in Fortune 100 and start-up companies. In her current role as, Vice President in American Express OPEN, she is leading several teams with a focus on digital marketing, mobile strategy, user experience and design. Prior to joining American Express, Tatyana was the Head of Marketing for Visible World, the leading targeted TV advertising platform for media buyers, advertising professionals, and marketers.
Tatyana has been recognized for her exceptional contribution and leadership.  She received the American Express Chairman's Award, the Makers Women's Leadership Award as well as the Direct Marketing 30 under 30 Award.  She is a Board Member of the Mobile Marketing Association, The Digital Ascendant and the IAB Executive Education Advisory Board.
Tatyana resides in Hoboken, NJ with her husband and their two sons.