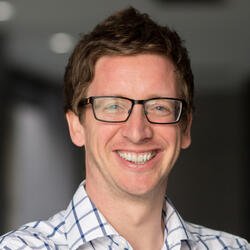 Stewart leads Fairfax Media's mobile commercial revenue and growth strategy which encompasses more than 30 market-leading mobile and tablet assets including the award winning Sydney Morning Herald, The Age and Australian Financial Review m-sites and tablet apps.
As the Mobile Commercial Manager, Stewart's focus is on turning product ideas into commercial solutions and he is actively involved in the development and implementation of Fairfax Media's mobile strategy. This includes managing the Fairfax Mobile Network product suite, promoting the range of creative opportunities available to Fairfax Media's advertising partners and building market confidence in the effectiveness of mobile advertising.
After joining Fairfax Media in 2010 as Account Manager, Stewart was promoted to Senior Digital Specialist. He moved into the role of Mobile Commercial Manager in January 2013, where he leads a team of talented mobile specialists.
A digital specialist with more than eight years experience in the media industry, Stewart's goal is to deliver the best mobile solutions to market while navigating the complexity of the constantly changing and challenging mobile advertising environment.