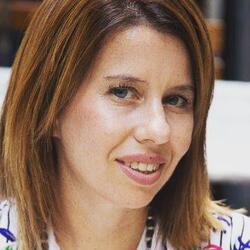 Sol Flores
Chair Argentina de MMA - Senior Regional Digital Marketing Manager Latam
Sol Flores, Argentine / Italian, married, has two kids (Mateo and Mora).
Sol has many years of experience in mass market, practically developed his entire career in PepsiCo both in the Beverages business unit and in the food business. Previously, she joined Citibank Corporate as part of the Marketing and Market Research team. Sol has a Degree in Business Administration and she also has 3 Postgraduates courses: Strategic Marketing (IAE), Negotiation (UCA) and Integral Marketing of Digital Businesses (UDESA). In 2001, Sol joined PepsiCo Beverages to relaunch Pepsi Brand Positioning and then she moved to Sales and Trade Marketing. In 2007, Sol moved to the PepsiCo Foods South Cone where she launched and developed the first brand baked, tasty and healthy and aimed to WOMEN: TWISTOS. After the highly successful launching in Argentina, Sol led the expansion of Twistos brand in across LATAM and Canada. In 2014, in order of evolving the way of doing marketing while impacting in the business, Sol created the first regional Digital Marketing HUB focused on the development and construction of 3 major pillars: Digital Capacities, Media Strategy and Content Generation.
Sol tiene muchos años de experiencia en consumo masivo y ha desarrollado prácticamente toda su carrera en PepsiCo tanto en la unidad de negocios de Bebidas como la de Foods. Previamente paso x Citibank Corporate formando parte del área de Marketing e Investigación de mercado. Sol es Licenciada en Administración de Empresas y tiene 3 posgrados: Marketing Estratégico (IAE), Negociación (UCA) y Marketing Integral de Negocios Digitales (UDESA). Sus primeros pasos dentro de PepsiCo Bebidas fue dentro del departamento de Marketing para la marca Pepsi y luego pasó por diferentes áreas comerciales como Ventas y Trade Marketing. En el 2007 se sumó al negocio de PepsiCo Foods Cono Sur en donde generó la estrategia de lanzamiento y el desarrollo a nivel nacional de la 1er marca del portafolio de la compañía de productos horneados, ricos y sanos dirigida a MUJERES: TWISTOS. Luego se sumó al equipo de marketing regional para expandir la marca en varios mercados de LATAM llegando a CANADA y USA. En el 2014 con el fin de fortalecer las comunicaciones dentro de la compañía, Sol creo un HUB regional de Marketing DIGITAL enfocado en el desarrollo y construcción de 3 grandes pilares: Digital Capabilities, Media Strategy y Content Generation.