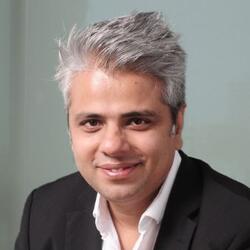 Shamsuddin Jasani (Shams) has been in the digital industry for over 17 years. He launched Isobar in India in August 2008, he has grown the agency's billing size from zero to USD 150 million and staff number grew from four to 200-member strong team.
Under his leadership, the agency has been achieved the distinction of being the Digital Agency of the year for India  for three years running from 2015-2017 as well as South Asia for two years which is given by Campaign Asia, Isobar has also won Digital Agency of the Year India Silver awards in 2012, 2014 and Isobar also debuted at number 4 on top digital agencies in the Brand Equity Agency reckoner for 2015. He also oversees the AMNET operations in India. Shams is also a board committee of Dentsu Aegis Network's Management in India as well as leading the charge on digital as a part of the Digital Council for Dentsu Aegis Network. During his tenure with Isobar, he has overseen two successful acquisitions.
He's been named an A-Lister on Campaign India's top 500 people in advertising and marketing list and has featured on e4m's Impact Magazine's Digital Power100 list last two years in a row. He was also voted by brand equity as one of media's valued players by brand equity across media's. He is one of the few people who has an experience as a Media Owner, agency and client. In addition to this Shams also oversees the programmatic operations for DAN in India and under his guidance AMNET has grown over 300% in the last 2 years.