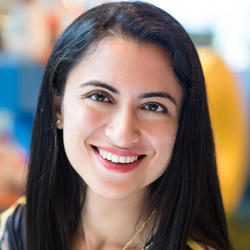 Shaifali heads the B2B Marketing team at Google and is responsible for driving thought leadership and product positioning for Google's Ad Products in APAC.
Shaifali has over 15 years of experience in Marketing in UK-based and Asia-based roles. Prior to joining Google in 2016, Shaifali held marketing leadership roles at American Express for 8 years in both the B2C and B2B space and worked on a number of digital first brand building and revenue driving initiatives. She started her career with HSBC with a brief stint in Mumbai before moving to London where she spent 6 years developing a strong foundation in consumer marketing. Shaifali's area of expertise is Strategy, Marketing, New Product Development and Product Management.
Shaifali holds an MBA in Marketing from the Indian Institute of Management, Ahmedabad. She is passionate about women's issues and is continuously working to be a strong role model to her 3 daughters.