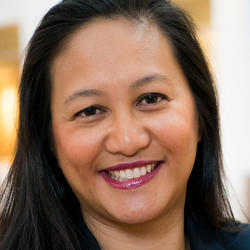 Ronalee Zarate-Bayani
Head of Global Integrated Marketing and Digital Advancement
Ronalee Zarate-Bayani joined The Hershey Company to drive marketing excellence through digital transformation. As Head of Global Integrated Marketing Communications and Digital Advancement, Ronalee is committed to establishing modern marketing excellence, creating compelling communications, and building enhanced digital capabilities.
Prior to Hershey, Ronalee worked in multiple leadership roles at Visa Inc with a focus on leveraging the power of digital to create effective consumer marketing campaigns. While at Visa, Ronalee was instrumental in forming a new internal marketing consulting group based on cultural strategy and social insights, as well as developing digital-first consumer launch campaigns for new product innovations. Prior to Visa, Ronalee cultivated her zeal for brand building through various marketing roles with Taco Bell that starting in Brand Marketing, then Brand Communications and culminated in leading the Digital Team through marketing transformation.
Ronalee is an enterprising change agent with a passion for digital and over 15 years of marketing experience across a variety of industries. Throughout her career, she's had the opportunity to drive impactful change both as an entrepreneur and an intrapreneur in global companies around the world, including Japan, South Africa, and the Philippines.
Ronalee holds an M.B.A. from The Stanford Graduate School of Business and graduated summa cum laude with a B.A. in Political Science from the University of California, Irvine.