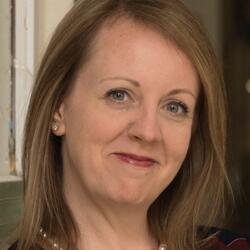 Rochelle Hartigan
Senior Marketing Leader – Branding and Advertising
Rochelle Hartigan is the leader of Brand and National Advertising for GE Lighting responsible for branding, creative content development, and national consumer advertising.
Rochelle advocates for well-placed ads and promotions paired with exceptional storytelling to help consumers make the most of their product buying experiences that serve to improve their daily lives. A passionate thought leader, Rochelle is constantly searching for new, innovative and powerful ways to compel consumers to change out working legacy light bulbs in favor of new innovations in light and to inspire consumers to expect more than light from their lamps.
Before GE Lighting, Rochelle led Retail Marketing Strategy for Vitamix blenders and served as Senior Director of Marketing for OurPet's company. She holds a bachelor's degree in business administration from John Carroll University in Cleveland, OH.