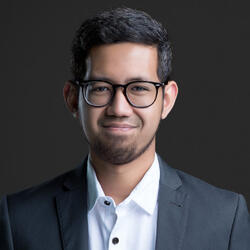 Rangga Gandina
GM Data Solutions Business & Partnership
Rangga started his career in the biggest, leading media agency group, where he also brought home the first medal for Indonesia at Young Spikes Asia. He had a hands-on experience in hand-holding brands during the early phase of digital marketing era as strategic planner.

His interest in tech & digital led him to join the tech giants; Tencent, and then Facebook-Instagram-Whatsapp; where he helped conventional business transformed into data-driven marketing. And when the opportunity to grow a start up appeared, he took it & joined ADX as CMO. He then shaped business development & marketing pillars for the start up.

He is currently becoming an integral part of digital transformation & data-driven growth in Telkomsel, as he led big data business & partnership.
Rangga is also on the mission of driving big data as growth lever for greater good.