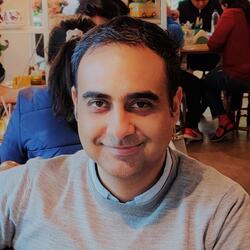 Prabhvir Sahmey (Prabh) is currently a Senior Director at Samsung Ads. His remit is to set up the Samsung Ads business in India & South East Asia by pioneering the arena of Connected TV. Which is at a very nascent state in 2020. Prior to Samsung, Prabh pioneered Programmatic Advertising at Google, Search advertising at GroupM and e-education with Tata Interactive Systems.
A journey spanning over 15+ years. From starting a small Bulletin Board System (pre visual internet era) to transforming services as a web developer, content writer, graphic designer and a project manager; the last few years were invested with a leading market transforming teams and product in getting digital marketing initiatives holistically right.
Over years, Prabh has been identified as a domain expert for all things online, go-getter, calm, and goal-oriented individual who encourages collaboration across various teams to achieve the business goal. The enterprising spirit enables me to work in start-up environments or be the change driver in slagging business conditions.