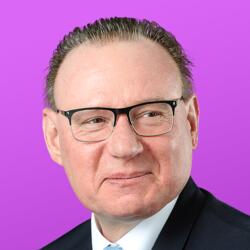 Nick Cooper​
Global Executive Director, Insights & Analytics
With over 35 years' experience, Nick is responsible for the development of the Insights & Analytics practice globally at Landor & Fitch. This includes thought leadership in brand and brand equity research, brand valuation and investment, and brand portfolio optimisation. ​​Nick specialises in helping clients grow their businesses and has worked with a wide variety of brands including Barclays, bp, BT, Maersk and Starbucks across his career.​ Previously Nick held roles with Unilever and British Airways and received an MA in History from the University of Cambridge. 
About Landor & Fitch
https://landorandfitch.com/en/global
We are a global brand transformation company, here to make an extraordinary difference: for our clients, our employees and the world around us.
We mix left and right brain people, working together, to go beyond what's expected. Essential intelligence and dramatic design. Business strategy and brand purpose. Expression and experience. Expertise and empathy. 1,200 curious minds. 19 countries. 1 team. We transform brands and businesses, to drive growth.
We see ourselves as valuable additions to our client's teams and are proud of our relationships with them. Local and global. Corporate and consumer. Emerging and established sectors. We work with clients that include Apple, Bang & Olufsen, bp, Kellogg's, LEGO, Microsoft, Nike, Procter & Gamble and Singtel, to name a few.
We are proud to be part of WPP, a creative transformation company dedicated to building better futures.