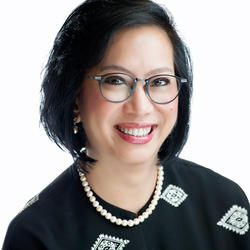 Neneng Goenadi
Managing Director, Indonesia
@ngoenadi
Neneng's daily role is the Country Managing Director of Accenture in Indonesia. She has been with Accenture for almost 28 years. She has also led the resources industry operating group in Indonesia since 2003 until 2018. Her other roles are in Inclusion & Diversity, among others are: ASEAN Human Capital and Diversity Lead (2011-2016) and the Asia Pacific Resources Inclusion and Diversity Lead since 2008 till now.
To show her commitment to make Indonesia an attractive market, Neneng has taken various positions in associations and government task force, which includes Board of Founder, Indonesia Business Coalition for Women Empowerment (IBCWE) (mid 2016 –present), Board of Founder, Indonesia Service Dialogue (2015 – present), Member of International Affairs, APINDO - Association of Indonesia Businesses (mid 2015 - present), and a Member of the Quality Assurance for Bureaucracy Reform team (as of 2016).
Her undergraduate came from Civil Engineering from Parahyangan University in Bandung and an MBA from Cleveland University in Ohio.