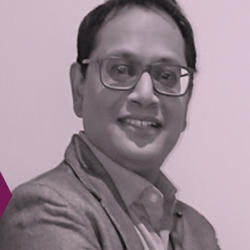 Neeraj Ramajathan
Group Digital Head, Mobile Advertising and E-Commerce
I am a multi skilled, senior leader in Digital, Telecoms and FMCG with20+ years of strategy development and execution in the Digital, Telecommunications and FMCG.
I am currently the Group Digital Head of Mobile Advertising at MTN Group working across 22 markets in Africa and Middle East.
My experience spans working in various senior positions working for global brands such as Colgate Palmolive, PepsiCo and Spar covering the areas of Finance, Marketing, Trade Marketing, Shopper Marketing, Retail Marketing, Marketing Intelligence and Big Data.
I have a passion for emerging markets and merging this with technology and insights to conceptualise and launch access to new and empowering services within these markets such as Mobile Advertising , eCommerce , Health , Education , Agriculture and Enterprise services.
Over and above mentoring a few start-ups, I also serve on the MMASA Board and Exco.