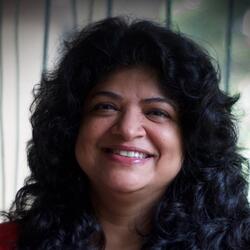 Nandini Dias is currently the Chief Executive Officer of Lodestar UM and she leads one of the most talented and capable teams in the country.
Nandini has the distinction of having launched over 400 brands in media and has managed media investments for over 175 clients like Samsung, Johnson and Johnson, Cadburys, Tata, Mahindra, Birla, Amul, etc. She has set up various skilled practices like Brand Experiences, Content, Celebrity management, etc. Besides, she has been part of the team identified to set up the creative agency FCB Interface Communications. Known for her strategic acumen she has developed several research-based tools for better media investments.
Touted as the Most Influential Woman in the advertising and media industry by the prestigious Economics Times for the last three years, Nandini has probably won the maximum number of media awards in the country. She has led Lodestar UM to the Media Agency of the Year title several times in the biggest Indian award shows like Emvies and Goafest including in 2018. She won the Media Planner of the year award in her early years. In 2016, 2017,2018 she was recognized as Agency CEO of the year by different organisations. Besides in 2018 she was recognized by The World Leadership Congress, as Times Power Woman, and the prestigious Gamechanger of the year for her philanthropic initiative WorkToLiveToWork. She has also won awards at Cannes and Spikes on more than one occasion.
She is a long-serving jury member at Cannes, Spikes, Festival of Media, Emvies, Effie's, Goafest, Press Club of India, and many more.
Nandini also ranks consistently among "Most influential media people"," Woman Achievers", "A list" in all the prestigious industry rankings. Her position among the industry's top women leaders has seen her being invited as a speaker on several industry platforms and in business schools in India and overseas.
Besides being passionate about the media business Nandini is passionate about sports. She has won several awards in the sport of badminton. A mother of two sons, Nandini is a strong advocate of work-life balance.