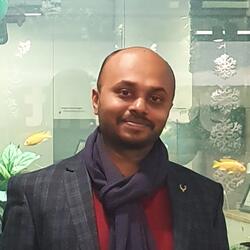 Mithun Cotha
Vice President – Data, Listening and Insights
@MithunCotha
Mithun Cotha is an award-winning marketer, a data analytics leader. A recipient of TITANS 40 UNDER 40 award by Social Samosa, a premier digital marketing media authority in India.
His Vision is to develop systems that fasten, collaboration, facilitate, contextual data faster to marketers for making informed decisions.
Has worked with over 50 clients in the last 10 years across FMCG, Technology, Auto, Entertainment, Consulting, NGO Industries to name a few. Mithun has been pivotal in building solutions in Social Listening & Insights, Online Reputation Management and Command Center Management service by leading challenging projects; has influenced over 150 professionals.
Striving towards a world of insights at lightning speed, Mithun has been instrumental in initiating and running over 5 Command Center projects in India and China; running an offsite centre watching over 100s of brands in real-time for actionable insights.