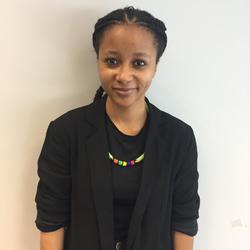 Word Cloud: Ideas_driven, thinker, energetic, edifier, Lifelong_learner, adaptable, curious
Mbali leads digital for Unilever Africa, setting the digital media agenda as well as leading enterprise digital transformation across Sub Saharan Africa. Her role includes defining how to deliver salience with consumers using the power of digital, providing strategic thinking and frameworks for their 50+ brands as they reach consumers.
She is also responsible for identifying and delivering innovative solutions, models and approaches powered by digital and technology to enable the business' future growth.
She describes what she does in digital as the technical side of Marketing, and the fun side of IT. In her previous role, she looked after digital experience and digital engagement in the organisation. Mbali built the digital department within McDonald's South Africa, setting up the structures, lead the change management as well as the strategy to fulfil the brands digital aspirations. She led this division which has a dual role of defining the future experience of customers empowered by technology solutions, while building the brand online through ecommerce and online consumer campaigns.
In her time at McDonald's Mbali has led the development of the organisation's ecommerce strategy through McDelivery, developing the organisation's first app, trialling mobile payments and most recently, launching self-ordering kiosks in McDonald's restaurants. Prior to her digital role, Mbali was a brand manager for McDonald's, looking after four of their brands, notably launching the McDonald's Food Quality Programme- Know our Food.