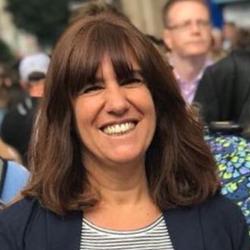 Maria Mujica
VP eCommerce Latin America
Maria leads Marketing Transformation & eCommerce in Latin America. Named among Fast Company´s "100 Most Creative People in Business", she is known for shaping cultures of creative collaboration, fast experimentation and scaling transformation for growth.
She was the driving force of Mondelez Fly Garage, an initiative to reinvent how to create collaboratively with creative partners and a blend of talents from very diverse backgrounds, showcased in Cannes Lions and Exponential Organizations book. She was later assigned a role to expand Fly Fearless globally and drove projects in Singapur, Greece, Sweden, New York & Latin America.
Maria scaled digital transformation in marketing, leading the launch of the Digital Accelerator program with 3 editions in San Pablo, Mexico DF, Bogotá and Buenos Aires, which contributed to establishing Mondelēz International´s strong digital footprint for its brands across all markets. She is Guest Speaker in Hyperisland Digital Transformation.
Maria was recognized by AdAge as Women to watch, and by Adlatina as Marketer Business Model Transformation of the year, in 2016 edition.
Today she leads ecommerce in Latin America and is focused in reinventing the next engine of digitally fueled growth for Mondelez brands in the region.
Maria is a 50 years old woman, wife of Gustavo Ruzzante since 1992 and mum of Santino and Carmina.