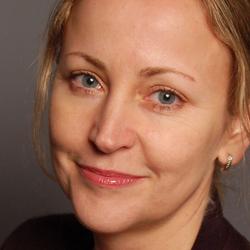 Margit Kittridge
Vice President, Digital Director
Margit joined Intersection, formerly Titan, in March 2014 to lead the digital business development efforts and strategic growth of Intersection's digital out-of-home portfolio. She is tasked with overseeing Intersection's digital transit advertising network, as well as running the digital ad ops team. In addition to enhancing Intersection's digital sales efforts, Margit also establishes new data partnerships and advises on new software integrations.
Prior to joining Titan, Margit served as Executive Director of Marketing and Digital Business Development for The Wall Street Journal Office Network. During her tenure at WSJON, she provided strategic and tactical leadership for the evolution of WSJON's business into emerging digital planning and buying platforms. She led the development of WSJON/Bizo new office product to re-target viewers of WSJON lobby screens via digital display ads served to their desktop browsers. In her role at WSJON, she also oversaw the market research function, including audience and campaign effectiveness research.
Previously, Margit worked as Client Strategy Director for Annalect, the data and technology unit of Omnicom Media Group, where she drove the new Annalect offerings for Midwest clients. Prior to that, she was Manager of Strategic Marketing and Analytics at the Tribune Media Group in Chicago and lead development of integrated, cross-channel solutions leveraging TMG's versatile assets across digital, print and broadcast platforms. Before joining TMG, Margit worked in various positions at Starcom MediaVest Group in Chicago after being transferred over from Budapest, Hungary, where she was the Media Director for Leo Burnett Budapest.