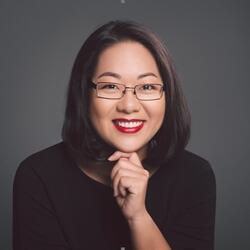 Le Viet Thanh Ha
Marketing & Customer Experience Director
OneHousing | One Mount Group
Started her banking career with HSBC in early 2008 as a marketer, Ha soon realized banking and digital could really go with each other to offer a greater and seamless customer experience especially in marketing. She led several digital banking product launches and actively promoted digital marketing for the bank.
She moved to join Citibank in Oct 2013 as their Digital Marketing Manager, aiming to build a fully digital sales channel as a new banking product distribution in the market. Right now, online and social channel is not only the cost-effective marketing interface but also a uprising sales channel that is getting more attention from the market with the significant drive by Ha and the digital team. Citibank has become the pioneering financial institution who successfully developed this end-to-end digital funnel in Vietnam. 
After Citibank, she took on the challenge of rejuvenating Visa brand in Vietnam as a payment technology enabler. She refreshed the brand with several major campaigns including Cash Conversion, Ế là xu thế, FIFA World Cup, Winter Olympics, Visa Client Business Forum and so on in Vietnam market. She also looked after the brand in Cambodia and Laos market from 2016 - 2018. 
Ha decided to take 2 "Gap years" with Google in Singapore by becoming their special project and brand & reputation consultant, launching Google Assistant in Vietnam, Google Digital 4.0 program with Ministry of Trade & Industry, Primer learning app, Google Ads for SME. 2020 witnessed the Covid-19 hit and Ha led the team to digitize Google Digital 4.0 and WomenWill program to 100% online experience for Vietnam, helping hundred thousands of SMEs and Women to be empowered by online learning and tools in navigating their businesses and careers. 
In Oct 2020, she decided to take up new challenge with One Mount Group in Vietnam, relocating to Hanoi and take on special fintech project and recently took role of Marketing and Customer Experience Director of OneHousing - a young proptech and real estate brokerage - a product of One Mount Group.