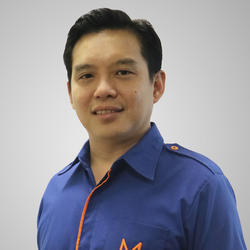 Larry Ridwan is the Chief Executive Officer (CEO) & President Director of PT Sampoerna Telekomunikasi Indonesia (Net1 Indonesia)
Previously, He was the Chief Commercial Officer (CCO) at PT. Internux (BOLT! Super 4G) and have made several
achievements. In 2014, under his command, BOLT! launched the first 4G Smartphone in Indonesia.
While in 2015, BOLT! gained 1 million users in just 1 year. In the same year, BOLT! won several awards
which are The Most Favorite 4G Provider in Seluler Award, and The Most Promising Service Provider
from Frost & Sullivan.
Prior to that, he was a Chief Financial Officer at First Media Tbk. in 2010-2013, and held various senior roles
at Citibank NA for four years.
Larry graduated Cum Laude from Ohio State University in United States with bachelor's degree, and became consultant there in 2000 to 2001.