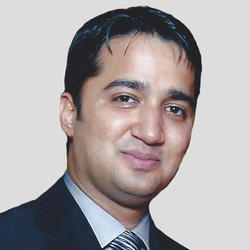 Jateen Kore is currently serving as Head - Digital Marketing for IDFC Bank Ltd. In his current role, he leads the social media management, digital brand campaigns & website user experience in addition to the development & governance of digital assets for various IDFC Group companies.
His main focus areas are to build IDFC Bank as the most admired brand online in the BFSI industry & deliver unique user experiences across the digital assets for IDFC Group companies.
He has been a co-founder of a B2B start up in the first wave of the dot coms & has over 16 years of experience across financial services distribution, life insurance & telecom. He has set up direct & digital marketing business channels for leading life insurance companies like ICICI Prudential Life & TATA AIG Life in India.
He has authored industry papers for direct marketing & distribution of life insurance products & for online sales & distribution of life insurance products in India.
Before joining IDFC Bank, he was General Manager - Digital Marketing at Vodafone India Ltd. where he led the first ever integrated digital identity roll over for the website & online shopping catalogue for telecom services in addition to managing online brand campaigns & revenues from the owned digital channels.