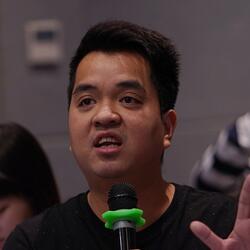 Hung Vo
Country Executive Vice President
2021 APAC Top 50 CMO, Vietnamese Marketer & Educator 

Hùng Võ is the only marketer from Vietnam to be recognized as Asia Pacific top 50 Most Influential CMOs on Campaign Asia Power List 2021, and continue to be featured in the nomination list in 2022 as Vietnam representative.

Hùng Võ is a 1985-born Vietnamese marketer passionate at developing local brands and local marketing talents, who has the mixed backgrounds & roles of an aggressive & transforming entrepreneur driving and developing businesses since 2008, an award-winning strategist & executive creative director on the agency side, and a business-impact-proven seasoned, disruptive marketer in the fast-pacing, technology changing business world, experiencing and growing in different environments covering leading multinationals, big locals or tech giant startups, across 15+ varied categories. 

Well known in the market for driving the significantly amazing comeback of the heritage brand Biti's since 2016 & later with many best-in-class campaigns in the market so far for this no.1 footwear brand, and achieve more than double domestic business at the role of Executive Vice President of Marketing. Winning more than 50 international awards, and 2 times "Brand Of the Year" in his 5 years at Biti's.

He's also with proven outstanding experience of business leadership on the agency side, bringing Redder from scratch in 2012 into the most awarding winning local creative agency in 2018, and acquired by dentsu in 2019, and continuing growing dentsu Redder into the biggest creative agency in Vietnam (with more than 45 million USD in 2022 revenue), winning more than 180 awards in Cannes Lions, Spikes Asia, The One Show, Adstars, Effies APAC, PR Asia Awards, and winning 5 successive years as Vietnam Creative Agency of The Year at MMA Smarties till now in the first 10 years of this agency. 

He's also known as a passionate educator, with his founding and co-developing Young Marketers – a purpose-driven non commercial platform for building the next Vietnamese marketing leaders since early 2013, a founding member of Global Advisory Board for Fulbright University Vietnam, a member of Country Advisory Board for UNICEF Vietnam, an advisory board member for Vietseeds Foundation, and also a Founding host for the famous Edustation podcast on Vietcetera, and the angel sponsor and developer for many prestigious and meaningful IP as Hundred Years of Theatre (Trăm Năm Sân Khấu) or Future Impact Academy or Hong Hac theatre & school. 
 
His current roles include but not limited to: Country Executive Vice President, Strategy & Growth Transformation, dentsu Vietnam; Founding Chairman, dentsu Redder; Advisory Board Member, Biti's; Founding Global Advisory Board Member, Fulbright University Vietnam; Director, Corporate Advisory, UNICEF Vietnam; Founding  Chairman, Young Marketers & Future Impact Academy. He's also a SEA Board Member of a reputed global fund including ventures and private equity.