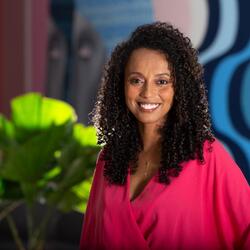 Helena Bertho
Head de Comunicação, Sustentabilidade & Diversidade
Helena Bertho é uma das principais executivas de Comunicação do Brasil, Head de Comunicação, Sustentabilidade e Diversidade da L'Oreal na Divisão Grande Público. Em 2021 recebeu o Prêmio Sim à Igualdade Racial, como Líder do Ano - o maior prêmio da América Latina. Publicitária com especialização em Marketing atuou nas áreas de Comunicação, Marketing e Diversidade em grandes empresas como Coca-Cola e L´Oreal. Foi conselheira do grupo Publicitários Negros, que reúne mais de 1.600 criativos de todo o Brasil. É palestrante e consultora nas áreas de comunicação criativa, liderança, inovação e D&I.
Prêmios: Ouro em Cannes Lions 2021: Black Santa "Juntos a Magia Acontece" (Coca-Cola) | Effie Awards LATAM 2020 Bronze: Campanha "Manaus" (Coca-Cola Brasil) | Stevie International Business Awards "Environmental & Communications/PR Campaign of the Year"
Ouro Prêmios ABERJE.