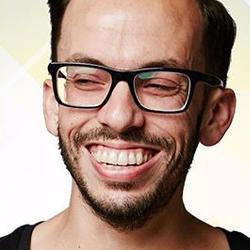 DJ Obscene

Whether it's spinning at private parties for iHeartMedia's top executives and clients or rocking an arena of 20,000 screaming concert-goers, DJ Obscene, always has the upper hand on knowing exactly what gets each crowd moving. Fine tuning his craft since the age of 14, Jonathan Garcia has come from the humble beginnings of passing out flyers and crafting mixtapes for then unknown rapper Pitbull, to now sharing the stage with mega stars such as Miley Cyrus, Rihanna, Calvin Harris, Enrique Iglesias and more. As an Official DJ for iHeartRadio's National Events and abroad, he's DJed alongside some of EDM's most high profile acts such as Afrojack, Calvin Harris, Kaskade & Chuckie amongst many others.
With currently three weekly radio shows under his watchful ear, Obscene reaches millions of people every week all across the world. As a Miami staple, he keeps his hometown rocking with his weekly mixshow on Y100 (WHYI-FM), entitled Club 100 where he plays club sets infusing Top 40 with the best selection of House, Electro & Trap. He also hosts Ultra Music Radio, a weekly hour long show airing on dozens of stations around the world, as well as his own 2 hour show airing Thursday nights on Miami's prominent dance music station, Evolution 93.5.
With deep roots in his hometown of Miami, Obscene has rocked clubs up and down South Beach for over 10 years. Having now spread to international territory with gigs from Cannes, France to Switzerland & Santo Domingo, this DJ is rapidly becoming one of the most sought after record selectors coming out of the U.S. His high profile clients in the U.S. and abroad include AOL, Microsoft, Facebook, iHeartMedia, Pepsi, T-Mobile and more. Continually evolving his personal brand, Obscene has also been featured on VH1 & the CW, as well as countless magazines & online publications including US Weekly, Las Vegas Sun, Miami Herald, Miami New Times and more.
As of 2015, Obscene has expanded his repertoire to include original productions and remixes. Satisfying his calling to be more than just a DJ, he's been in the studio crafting music and honing his production skills leading up to the release of some original material to follow up his current run of remix projects. With multiple remix releases under his belt since embarking on this new path, Obscene has already made an impact with the major players in music. With three releases on Atlantic Records and a release on Diplo's Mad Decent label already under his belt, this talented DJ/Producer is just beginning to scratch the surface…​