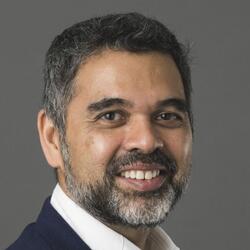 Convergence and transformation were part of Dick's DNA long before they become familiar buzzwords. Being a Dutchman in disguise with a cultural mix of Dutch Indonesian and Dutch Portuguese Jewish and holding both a degree in marketing and organisational sociology probably contributed to this.
Born in the Netherlands but raised to be a Global citizen aptly set him up for an international career that spanned from postings in Korea, Japan, Indonesia, China, Hong Kong and twice Singapore over the last 30 years.
Whilst he started out on the client side (European Options Exchange), he worked essentially for 3 large leading firms in the advertising and marketing services industry - 12-years as a partner at the privately held D'Arcy, Masius Benton & Bowles (acquired by Publicis in 2002), 9-years at DDB Worldwide (party of Omnicom) and for the last 7 years at Dentsu - the first Asian born Global communications group.
During this period he led large International client portfolios Regionally, Globally, restructured and grew DDB Greater China into a leading player, including winning China's first Cannes Gold Lion, which led him to be awarded the first foreign advertising person of the year by CCTV and CAA, and a merger with an unit of China's leading SOE, Citic (Guoan).
In October'2012 he was lured to become the first foreigner to head up Dentsu Asia where he helped to merge with Aegis following the acquisition by Dentsu.
He then went onto lead the combined Dentsu Aegis Network in SouthEast Asia (comprising of media, digital, data and creative assets), more than doubling it through a comprehensive transformation and extensive M&A strategy - becoming the Regions 2nd largest. During this period, Dentsu acquired over 18 companies and achieved many leading industry accolades including multiple Network of the Year awards, but more importantly, extensively diversified/reshaped its talent and client base to successfully compete on a Global level.
Subsequently in January 2018 Dick was asked to helm Dentsu Aegis Networks' Global Creative & Content business- an unit of +9000 pax and revenues just shy of 1Bln USD - and a member of the Global Executive Management Committee. During this period he spearheaded the launch an innovative new way to look at brand management in the experience economy - Dynamo Brands - comprising a new brand metric (dynamobrandindex.com), a real time brand management app (dynamobrandengine) and expanding the geographic footprint, suite of services. Client diversification was achieved through wins like becoming a Global Coca Cola roster, Asahi and Generali partner.
Whilst he liked to describe himself as a corporate entrepreneur Dick ensured he stays current by being actively involved in start-ups, largely in the med, mar and fin-tech sectors as both an angel investor, board member and advisor.
Having resigned from Dentsu in the fall of 2019 he's currently servicing his notice whilst working on setting up his new venture which focusses on the area of Transformation (not limited to digital) through a combination of investment, advisory and consultancy.
He's on the board of the Mobile Marketing Association APAC, the championship council of a Malaria eradication foundation M2030 and an active speaker at conferences. He was the lead patron in the Anne Frank Tree preservation foundation, an avid art collector, equestrian and purveyor of wines and music. Dick calls Singapore home.